Getting important papers like an Unmarried Certificate in India might sound tricky, but we're here to make it simple! Whether you're getting ready for marriage, thinking about travelling to far-off places, or dealing with paperwork for moving to another country, having this certificate is super important. We'll take you through each step, what you need, and all the little details to make it easy. Let's get started on how you can apply for an unmarried certificate in India
An Unmarried Certificate is a legal document that certifies one's marital status according to the laws of one's country. It is also known as a singleness certificate, and it is a self-declaration that the person making it is unmarried or has no legal obligations from any previous marriages. This document allows the person to get married in another country legally.
Why is an Unmarried Certificate Required?
An Unmarried certificate can be used to avoid fraudulent marriages, where one person wants to get some benefits from the other person's immigration status or other rights. Some employers may also ask for this certificate as part of the job requirements. This article will explain how to apply for a certificate of unmarried status, who can get it, what are the necessary documents, how much it costs and more.
Process to Apply for an Unmarried certificate:
To obtain an unmarried certificate, follow these steps:
Go to the office of the Deputy Commissioner or Suvidha Kendra Centre
Make sure that the documents are verified and authenticated
Provide a sworn statement as well
Pay the application fee and hand over the documents to the authority
Wait for about 15 days for a police investigation to take place
Have at least 2 witnesses ready during the investigation (they can be neighbours)
After the investigation, the papers will be forwarded to the Ministry of External Affairs for final approval
The final certificate will then be delivered to the applicant.
Alternatively, if you live overseas, you can approach the Indian High Commissioner for your unmarried certification.
Documents Required for an Unmarried Certificate:
Prepare the below documents before applying for an unmarried certificate:
A copy of your passport.
10th class marksheet/passing certificate.
Address Proof.
Proof of your parents.
An affidavit stating that you are a bachelor.
Unmarried Certificate PDF Download Process:
A few state governments, like the government of Tamil Nadu, allow you to register for an unmarried certificate online. To download the unmarried certificate pdf online in Tamil Nadu, you have to register with the state government portal tnesevai.gov.in. After registration, follow the below steps to apply for an unmarried certificate:
Go to the official site and click on the citizen login button.
Fill in your login details.
Complete the captcha and log in.
You will be directed to the next page, select the Services option from the left panel.
Click on the Revenue Department from the options
Inside the Revenue Department, click on the REV-120 Unmarried Certificate option.
Click on the proceed button.
If you have a CAN number, your record will be shown in search results.
Select your record and click on the proceed button.
Your details will be pre-filled in the application form. Check the details.
The next page will show you the documents required.
Attach the digital copies of the required documents and submit them.
You will be redirected to the payment gateway. Make the payment of the fees required.
Click on the "Print Receipt" button to download the unmarried certificate pdf.
How to Check Unmarried Certificate Status?
To check the status of your Unmarried Certificate application:
Go to the official website
Log in if necessary and click on "Check Application Status."
Enter your application number and search.
It will show your application status.
Reach out to support if you have questions or encounter issues.
Benefits of Unmarried Certificate:
Obtaining an Unmarried Certificate may seem like a simple administrative task, but it holds significant importance in various areas of life in India. You can use an unmarried certificate for army jobs, passport, visa, or some other jobs that demand single status. They can also serve as evidence of eligibility for government programs or benefits that are exclusive to unmarried individuals.
Additionally, an Unmarried Certificate can be useful for individuals who intend to get married in the future. In some situations, the certificate may be needed by the marriage registrar as evidence of single status before issuing a marriage certificate.
Unmarried Certificate Format: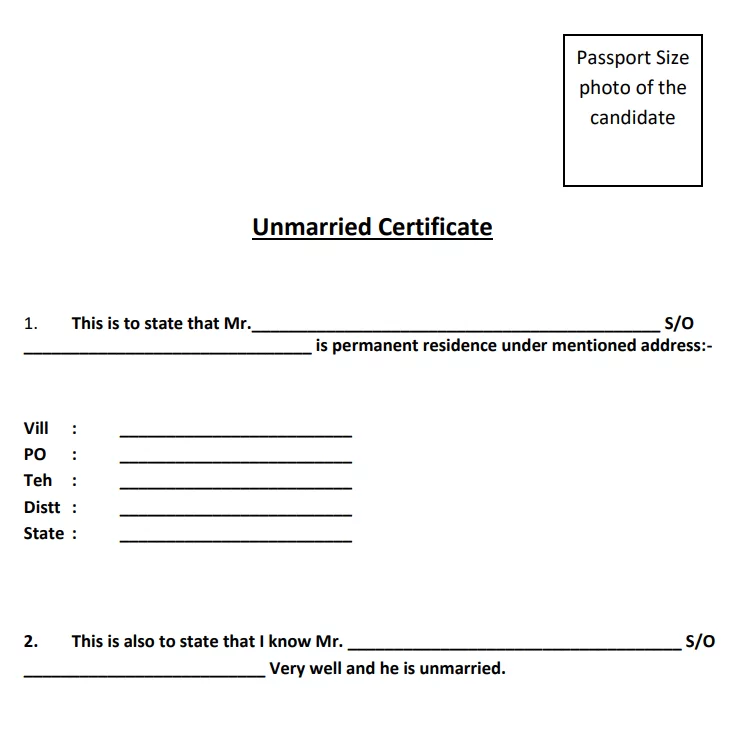 How to Write an Application for Unmarried Certificate?
Writing an application for an unmarried certificate is a crucial step in obtaining this document. Here's how to draft an effective application for an unmarried certificate:
[Your Name]
[Your Address]
[City, State, PIN Code]
[Your Contact Number]
[Date]
To,
The Registrar of Births and Deaths
[City Municipal Corporation/Municipal Office]
[City, State]
Subject: Application for Unmarried Certificate
Respected Sir/Madam,
I am writing to request an Unmarried Certificate for [mention the purpose]. I declare that I am currently unmarried and provide the following details:
Full Name: [Your Full Name]
Date of Birth: [Your Date of Birth]
Gender: [Your Gender]
I declare that, as of the present date, I have not entered into any legal marriage or civil partnership. Please issue the Unmarried Certificate as it is required for my [mention the specific purpose]. I have attached the necessary documents, including a copy of my Aadhar Card/Identity Proof and a passport-sized photograph.
Thank you for your assistance, and I look forward to receiving the certificate.
Yours sincerely,
[Your Full Name]
Frequently Asked Questions (FAQs):
1. Is there a fee for obtaining an unmarried certificate?
Ans: Yes, there is usually a fee associated with obtaining an unmarried certificate. The fee amount can vary depending on your location and the issuing authority.
2. How long does it take to get an unmarried certificate?
Ans: The processing time for an unmarried certificate can vary significantly depending on your location and the efficiency of the issuing authority. It may take a few days to a few weeks in most cases.
3. Is an unmarried certificate valid indefinitely?
Ans: No, unmarried certificates typically have an expiration date. The validity period may vary by jurisdiction, so it's essential to check the expiration date on your certificate and renew it if necessary.
4. Can I use an unmarried certificate from one country in another country?
Ans: Unmarried certificates issued in one country may not always be recognized in another country. If you plan to use your unmarried certificate abroad, it's advisable to check the specific requirements and regulations of the destination country.