EWS stands for the Economically Weaker Section, a category of people who belong to the general category, separate from Scheduled Caste, Scheduled Tribes or Other Backward Classes and have a weak financial background. The EWS certificate is a document that proves that a person belongs to this category and is eligible for reservation in education and government jobs under the 10% quota. This bill has been effective since it was accepted by the state of Gujarat in Jan 2019.
EWS Certificate has been beneficial for the economically weaker section of society for multiple reasons like government jobs, admission to schools, admission to colleges, etc.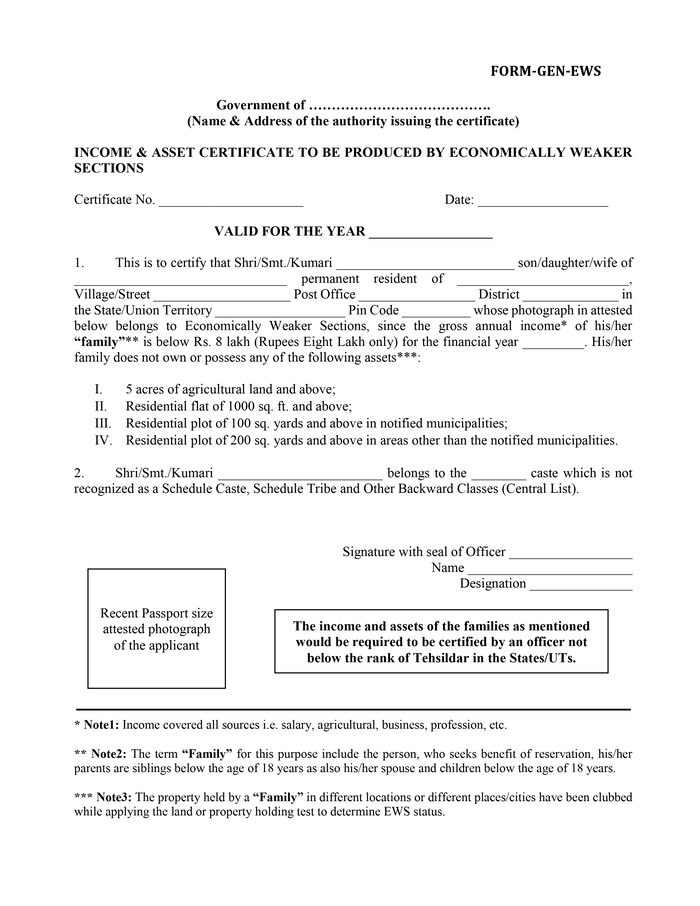 Eligibility Criteria For EWS Certificate:
The government of India has defined clear rules for the eligibility of the EWS certificate
If you want to apply for an EWS certificate, you need to fulfil the criteria to claim the reservation. The criteria for eligibility for an EWS certificate are as follows:
You should be from the general category
You should not belong to any other reserved category like SC, ST, or OBC.
Your annual family income should be less than 8 lakh rupees
Family income refers to income from all the resources combined(e.g. From business, agriculture, salary, etc.)
You will be excluded from the EWS category, even if you satisfy the income criteria if you have possession of the below assets:

Agricultural land with an area of 5 acres or more
Residential place of area 1000 square feet and above
A plot of land for the residence of an area of 100 sq. yards and more in notified municipality
A plot of land for the residence of an area of 200 sq. yards and more in other than the notified municipality

All the properties of family members will be added together to determine eligibility for EWS.
The term "family" here indicates you, your parents, any siblings below the age of 18 years, your spouse, and your children below the age of 18 years.
How Do I Apply for the EWS Certificate?
If you want to claim the EWS certificate, there are 2 ways: online and offline. The application procedure is different for different state governments.
Online EWS Certificate Application Process:
Go to the State or District administration portal that corresponds to your certificate.
Go to certificates > EWS certificate.
Register using your mobile number to proceed further.
Upload your supporting documents required.
Submit your form and wait till you get approval from the administration.
Once you get approval, you can download ews certificate online and print the certificate.
Offline EWS Certificate Application Process:
Go to your nearest Tehsildar office or any government body that issues the EWS certificate.
Ask for an EWS certificate application form.
Fill in all the details required, e.g., personal and family details, address details, contact details, income details, Domicile certificate, etc. and attach your photograph and supporting documents.
You will be given a reference ews certificate number based on your application.
After careful scrutiny, processing and verification, you will be provided with your EWS certificate within 10-14 days.
The validity of the certificate is usually 1-year post issuance of the certificate.
Documents Required For EWS Certificate:
Caste certificate (if applicable)
Land or property documents (if applicable)
Affidavit declaring that you are not covered under any other reservation category
BPL card
Passport Size Photograph
Bank Statement
Benefits Of EWS certificate:
Benefits of certain government schemes.
Financial assistance for government-based services.
10% reservation on all government jobs and civil posts.
Reservation for Higher Education(all major universities and government-recognised educational institutions need to have reservations for EWS quota for students)
Subsidy on schemes provided by the State and Center government.
Key Difference Between EWS Certificate And OBC Certificate:
Check out the key differences between the two, including eligibility, age relaxation, reservation percentage, and income criteria.
| Parameters | EWS Certificate | OBC Certificate |
| --- | --- | --- |
| Applicable for | Economically Weaker Section | Other Backward Classes |
| Age relaxation | Yes | No |
| Reservation | 10% | 27% |
| Annual Income | For General category with income of Rs. 8 lakh per annum. | For SC, ST, and OBC category with income less than Rs. 8 lakh per annum. |
State-wise EWS Application Link
Below is a table that shows the state-wise links for applying for the EWS/Income certificate. Candidates can check the official website of their state to find out if the EWS Application process is online or offline. The table also provides the details of the authority that issues the certificate in each state.
Statewise Official Portal for EWS Certificate
The EWS certificate is valid for one year from the date of issue. You need to renew it every year if you want to avail the benefits of reservation. You can also get EWS certificate in Hindi as well. The EWS certificate can help you get admission to educational institutions, apply for government jobs, and get scholarships and fee concessions.
How to Renew EWS Certificate?
EWS Certificate renewal is a simple process that ensures you keep accessing the benefits it offers. Here's a simple guide:
Gather your current EWS certificate, ID proof, and address proof.
Reach out to the issuing authority's office to learn about the renewal process.
Obtain the renewal application form from their office or website.
Complete the form accurately and attach the required documents.
Submit the filled form and documents to the designated office. Remember to keep the receipt.
Authorities will review your application and might verify your residence.
After approval, collect your renewed EWS certificate from the office.
By following these steps, you can easily renew your EWS certificate and continue benefiting from its advantages.
Frequently Asked Questions (FAQs):
1. How to get an Income & Asset/ EWS Certificate?
Ans: To get the Income & Asset/ EWS Certificate, you can visit the official website of the relevant authority or download it online or offline. You can also find the ews certificate application form on this page. Check the table above for the links to apply for the Income & Asset/ EWS Certificate.
2. Who is eligible for an EWS Certificate?
Ans: All the citizens of India who have a yearly Income of less than Rs 8 Lakh or own less than 5 Acres of land are eligible for EWS Category certification.
3. What are the benefits of having the EWS Certificate?
Ans: People with EWS certification are provided 10% reservation in civil services and government jobs. They can also get relaxation in admission to higher education.
4. How can I track my EWS Application?
Ans: To check the progress of the EWS application, one can go to the official website of the service provider. The states that offer online certificates have also given a different link to see the status of the application.
5. Can I avail of an EWS certificate if I am from OBC?
Ans: No, as the EWS certificate is availed by people from the general category. You can apply to the OBC category certification which has its own set of benefits that you can avail.
6. What are the registration/ application fees for availing of the EWS certificate?
Ans: The charges for the application form are different for different states. These charges usually range from 20 to 50 INR.
7. Can the MNREGA Job card also be used for availing the EWS Certificate?
Ans: Yes, as the MNREGA card can act as identity proof as well as income proof.
8. What is the name of the states where the online facility for availing the EWS certificate is available?
Ans: The online application services for the EWS certificate are available in the states of Andhra Pradesh, Bihar, Himachal Pradesh, Gujarat, Punjab, Odisha, Rajasthan and West Bengal.