In order to make life easy for its members, the Employees' Provident Fund Organisation (EPFO) launched an online portal called 'EPFO E-Sewa' in April 2012. The portal provides easy access to EPF requests and all the other services linked with EPF.
It also helps employees to claim for their provident fund, check the status of the claim that was processed, and update the information related to KYC. But, a member can avail of those benefits only if he/she has registered on the portal.
How to register on EPFO E-Sewa?
The steps to register on the E-Sewa portal are:
Before you register yourself on E-Sewa, you will need your Universal Account Number (UAN). The UAN is a 12-digit unique number assigned to every employee contributing to the EPF. It is generated and allotted by the EPFO and authenticated by the Ministry of Labour and Employment, Government of India.
To begin, go to the EPF Member Portal. Now, in the "Important Links" section, click on "Activate UAN."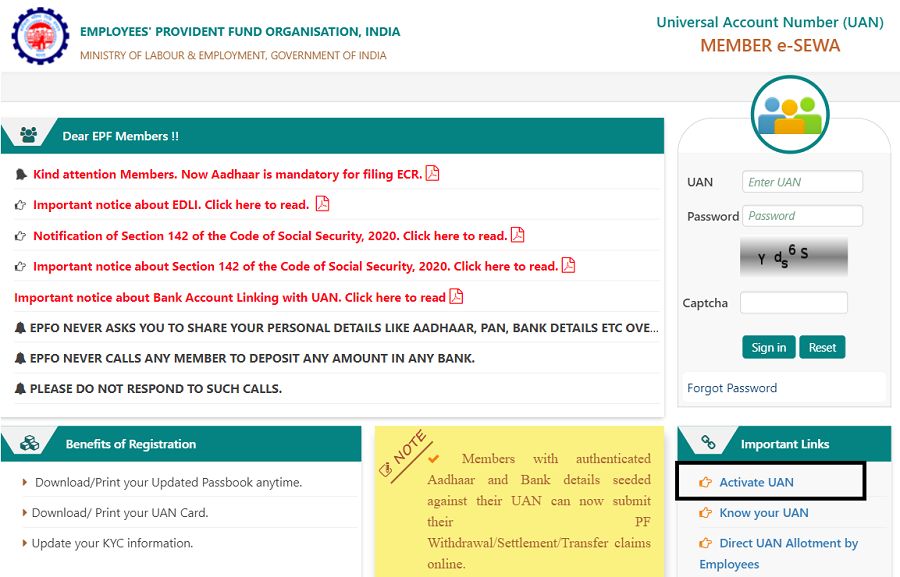 Then, enter your details. After filling in these details, you need to click on "Get Authorization PIN".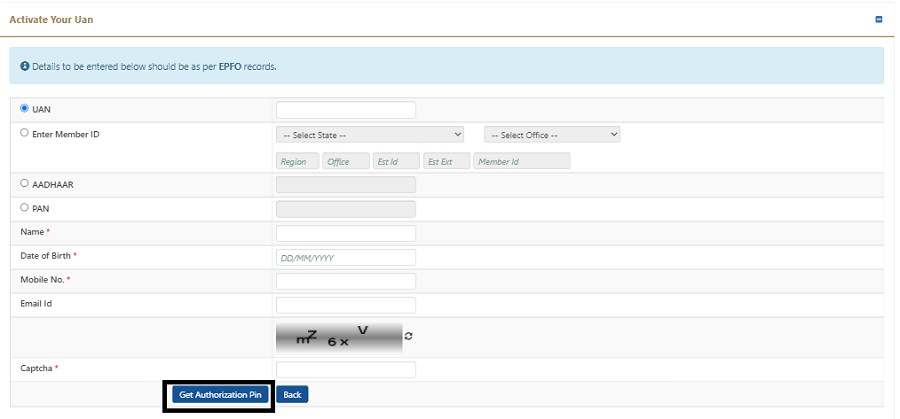 A PIN will now be sent to your registered mobile number linked to EPFO.
After receiving the PIN, you will need to enter this PIN to activate your UAN account.
A system-generated password will again be sent to your registered mobile number through SMS.
It is highly advised to change this password after logging in successfully.
What are the key UAN member E-Sewa services?
Here are the main UAN member E-Sewa services:
1. View
The UAN employee portal has your complete EPF profile. This section contains information on your personal details, such as UAN, name, date of birth, and gender. Some of the fields are editable, which can be done by authenticating through OTP.
All the organizations you have worked with are present on this tab. You get to see details like member IDs, organization name, your date of joining and ending, and other details pertaining to the Employee Pension Scheme.
Here you can view and download your UAN Card. This is helpful for EPF related work to carry offline.
This is the passbook of our EPFs. Here you can see the amount of our share and employer share towards the fund. Also, the fund contribution to the pension scheme is also visible.
2. Manage
This section deals with changing our basic details, updating new information like education, and so on.
All KYC details can be updated in this section. They include PAN, bank details, passport number, and driving license, among others. You must also upload supporting documents along with the KYC details, and the same should be verified by the employer. Once verified, details will get changed automatically.
3. Online Services
This section deals with PF withdrawal. It consists of three forms – FORM 31, FORM 19 and FORM 10C. However, note that for the purpose of claiming full/partial withdrawal through the Composite Claim Form, Aadhaar must be linked to UAN.
You can also request the transfer of your PF amount from the previous account into the current one. Before applying for a PF transfer on the EPFO UAN portal, ensure KYC details are updated.
You can track your EPF claim status on the UAN Login portal.
How to check your UAN status on EPFO E-Sewa?
Follow the below steps to find out your UAN status:
To begin, go to Universal Account Number (UAN) Portal and sign in using your UAN and password.
Now, click on the 'Know your UAN Status' option.
After that, fill in all the details like PF number, Member ID, PAN, or Aadhaar number. Fill in the remaining fields, including your DOB, Name, Contact Info, and Captcha Code.
After that, click on the 'Get Authorization Pin' button.
You'll receive an OTP on your registered mobile number linked to EPFO. Enter that OTP and press the 'Validate OTP and get UAN' button.
Now, you will immediately receive a UAN number on your registered mobile number.
UAN Customer Care
UAN Members can contact the UAN Customer Care staff for any help with their EPF Accounts using the contact information below.
| | |
| --- | --- |
| Toll-Free Help Desk Number | 1800 11 8005 |
| Email ID | [email protected] |
| Official ID | www.epfindia.gov.in |
| Help Desk Services Timings | 9:15 AM to 5:45 PM |
Frequently Asked Questions (FAQs):
1. What is the procedure for linking a UAN to an Aadhaar card or number?
Ans. Visit the UAN Member e Sewa Portal and log in with your UAN and password to link your Aadhar Number to your UAN. Now, under the Manage page, select KYC data to link your Aadhaar to your UAN.
2. How Do I Reset My UAN Member Portal Password?
Ans. To reset or update your UAN Member Portal password, go to the login section and select Forgot Password, then input your UAN and Captcha code. Now, click Submit after entering the OTP received to your registered mobile number. Finally, log on to the UAN portal with your new password.
3. Is it possible for a member to register for access to his or her account on the e-Sewa portal?
Ans. Yes, under the view tab, members can see information about their UAN (Universal Account Number), Employer Details, Member ID, Personal Details, or UAN Card. They must first register on the e-Sewa Portal to read the contents of this information.
4. How do you update your personal information on the UAN portal?
Ans. Members can only make changes to their personal information, such as their phone number and email address, in the Manage section of the UAN Member Portal. Under the Manage section, click Change Contact Information, and an authorization pin will be given to the new phone number. Your phone number will be updated after you enter the pin in the field given.