There are many castes in India. A caste certificate helps legally establish which caste you are from. It is a piece of document that you can use to back your claims that you belong to a certain caste. It is a very important document for those belonging to 'Scheduled Caste' or 'Scheduled Tribe' as it helps them receive the benefits of various government schemes.
How to apply for a Caste Certificate?
You can apply for a caste certificate either online or offline.
Step-by-Step Process to apply for Caste Certificate Online:
Visit your state or Union Territory's (UT) Backward Class Welfare Portal. Most of them have it, although the name of the department could be different.
Once you're on it, click on the link "Apply for Caste Certificate Online".
Now, you need to create a new account in the portal, if you don't already have one. If you do, directly start filling the online application form.
After creating the account, you'll receive a username and password. Use it to log into the portal.
You can now fill the application form. Properly enter details like your address, contact details and personal details.
Verify all the details, agree with the terms and conditions, and hit 'Submit'.
It is time to upload documents. Start uploading scanned copies after clicking on the type of document you are uploading.
After that's done, click "Submit".
An acknowledgement slip will be generated. It will have your application number on it.
Get it printed or save it on your system. You can use this number to check your application status.
After your verification is completed, you will be notified. You can then download the caste certificate from the portal itself.
Step-by-Step Process to apply for Caste Certificate Offline:
Caste certificates can also be acquired offline as well. Here are the steps to do so:
Visit your nearest Tehsil Office, Revenue Office, SDM Office or CSC / SETU centres.
Get the application form for a caste certificate.
Like the online process, you need to fill in the details like address, personal and contact information.
Come to the 'Caste Detail' section. Here you will need to fill in the caste certificate details of your father.
If he has expired, then you'll need to provide details of your blood relatives' caste certificate.
If you have that and it is consistent with your caste, tick the correct caste option.
Please note: if you have migrated from another state, then you must specify that in the application form.
Fill and sign the self-declaration part In the application form, which states your migration.
Along with the self-declaration, you will need to paste a passport size photo of yourself and also submit some local references for the verification process.
After getting through with that, submit the filled application form along with the required self-attested documents to the officer.
Also, ensure that you always have your original documents handy during the verification process. If everything goes smoothly, you should expect to receive your caste certificate at your registered address in 30-35 days' time.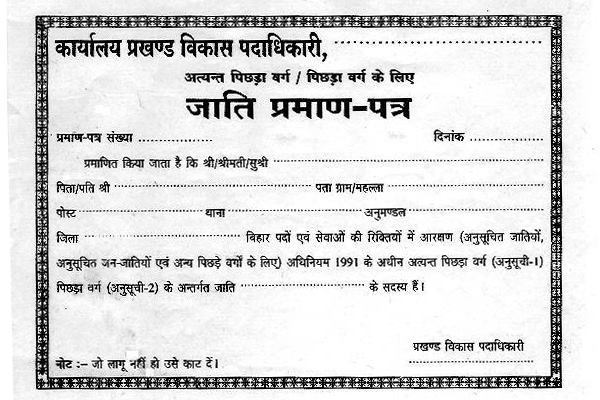 State government websites where you can apply for a Caste Certificate Online:
Documents Required
To support your application for a caste certificate, you need to provide documents for address, identity and age. Every state administration may have its own list of documents that you must submit. But, the following are the most frequently requested documents to get a domicile certificate:
Proof of Identity(POI)
Proof of Address(POA)
2 Passport-size Photo
An affidavit for Caste Certificate
Properly filled-in Application Form
Documents Required for Proof of Identity (POI):
Other recognized ID issued by the government
Documents Required for Proof of Address (POA):
House Registration Document
Lease Agreement
Telephone/Electricity/Water Bill
Self Declaration attested by Gazette Officer (Your Address, declared by a Gazetted Officer)
Flat Allotment/Possession Letter
Other recognized document issued by the government
Documents Required for Proof of Caste:
A copy of the applicant's high school admissions record, as well as his father or grandfather.
The applicant's or his father's primary school leaving certificate.
A copy of the applicant's/father's/relatives' birth certificate.
A copy from the applicant's father's or relative's Government Service Record (book) indicating the applicant's father's or relative's caste/community group.
Caste certification document issued by the Department of Social Justice.
Validity Certificate issued by the scrutiny committee if any of the father's or relatives.
A copy of the village panchayat's records or tax records.
Documentary proof of caste and ordinary residence prior to the caste notification date.
Other relevant documents released by the competent authority are applicable.
Additional documents to support as per the scenario
There are some exceptions where you need to submit additional proof of documents. All of the documents needed in each scenario are mentioned below:
Case 1: If there is no evidence of father's caste, a relative's caste certificate and genealogical affidavit should be provided, with the information of relation to relative
Case 2: If a married woman,
Proof of caste before marriage,
Proof of marriage- A marriage certificate, as well as a name change notice in the gazette, are needed.
Case 3: If the applicant came from another state/district, the applicant's father's caste certificate must be granted by a qualified authority in that state/district.
Case 4: In the case of religious conversion, proof of caste must be given prior to conversion, as required.
How to Apply for Caste Validity Certificate?
The validity of a caste certificate depends on the state. A caste certificate usually remains valid throughout the individual's life. However, their validity is limited to a certain period of time in some states. Here's how you can apply for Caste Validity Certificate:
Request a caste validity certificate application form from the Tehsil or SDM office.
Complete the form properly and return it to the officer.
The certificate could take up to a month to arrive.
Frequently Asked Questions (FAQs):
Q. What are the Benefits of Having a Caste Certificate?
Ans: If you have a valid caste certificate, you will be eligible for all of the benefits. If you belong to the SC, ST, OBC, NT, VJ, or another caste, your caste certificate will grant you privileges in school, college, university, and the workplace. You can also get government scholarships, educational loans, and other benefits with this caste certificate.
Q. Where will anyone use a Caste Certificate?
Ans: A caste certificate can be useful in the following situations:
Admissions to schools
Admissions to colleges
Competitive Exams
Scholarships
Grants from the government
Schemes for housing and self-employment
Allotment for House sites
Assignment (grant) of land
Election (as a candidate)
Q. Is there a fee for applying for a caste certificate?
Ans: The terms of fees differ from one state to another. While some states charge an application fee or a processing fee, others do not charge anything at all.
Q. How much does it cost to apply for a Caste Certificate?
Ans: The cost of obtaining a caste certificate varies from state to state. This amount may be somewhere between ₹10 – ₹500.
Q. How will a person who applies for a Caste Certificate online receive the document?
Ans: After submitting an application online, applicants can track the progress of their application through the same portal. Additionally, if the certificate is accepted, it can be downloaded directly from the website.