Marriage certificate is a document issued by the government under the Hindu Marriage Act, 1955 or the Special Marriage Act, 1954. The certificate is proof that two individuals are married.
How to Apply for a Marriage Certificate?
In India, there are two ways to get your marriage registered. You can either apply online or offline for a marriage certificate.
Process for Applying a Marriage Certificate Online:
Head to the official site of the state government or Union Territory (UT) in which you want your marriage to be registered.
Once you've located the portal of your home state or UT, find an option that reads "marriage registration". Hit the "Apply Now" button.
You will now see 'FORM D'. You'll need to fill out that form carefully on the portal itself and then upload the required documents.
Some payment will also be required. It won't be much, so make the necessary payments and complete the procedure.
After making the payment, you will be able to download the filled marriage certificate application form. The next step is similar to the offline procedure. You will be given a date on which you'll have to come with your spouse and three witnesses.
So on that date, reach the office on time and ensure that you carry a printed copy of Form D and various other documents.
The registrar or whoever is sitting in the office will ask you to sign all the documents and certificates there and then. The registration process also attracts a payment, so ensure you carry cash.
Once the relevant authorities have verified your details, the marriage registration certificate will be issued to you and it will arrive within two weeks.
Process for Applying a Marriage Certificate Offline:
Grab an application form from your nearest marriage registrar office.
Carefully fill up the application form and enter all the details required, including passport size photographs.
Now, you'll need to submit the duly filled application form, along with attested documents to the marriage registrars office. The documents will then be verified by the respective authorities.
After that, the registrar will allocate a day on which you'll have to come with your spouse and three witnesses to sign the registered certificate.
It is your duty to arrive on time on the allotted date, along with your spouse and three witnesses.
After signing and stamping the document in the presence of the officer, you will be issued an original, stamped marriage certificate in under two weeks.
However, the registration could be delayed if the registrar's office has two many applications. That is exactly why a lot of people these days go with online mode.
Process to Apply for Tatkal Marriage Certificate
There is a provision for tatkal marriage registration on payment to encourage registration of marriages in cases of urgency on a priority basis.
With a minor variation, the process is similar to the standard procedure. Both the husband and wife must go to the SDM office with all the required documents, including properly signed forms, address proofs, proof of date of births, passport-sized photographs, separate marriage affidavits from both husband and wife, invitation card, and Aadhaar Card.
The fees for the Tatkal Marriage Certificate Scheme must be paid by the couple. The pair will be given an appointment to appear before the SDM shortly after paying the fees. A few questions will be asked by the SDM. After this procedure is completed, the couple will be given two certificates, one for the husband and one for the wife.
The tatkal marriage registration process is limited to Hindu, Sikh, Buddhist, and Jain marriages. Marriages between Muslims, Christians, and people of other religions cannot be registered under this law; instead, they must register their marriages under the Special Marriage Act, which takes 30 days.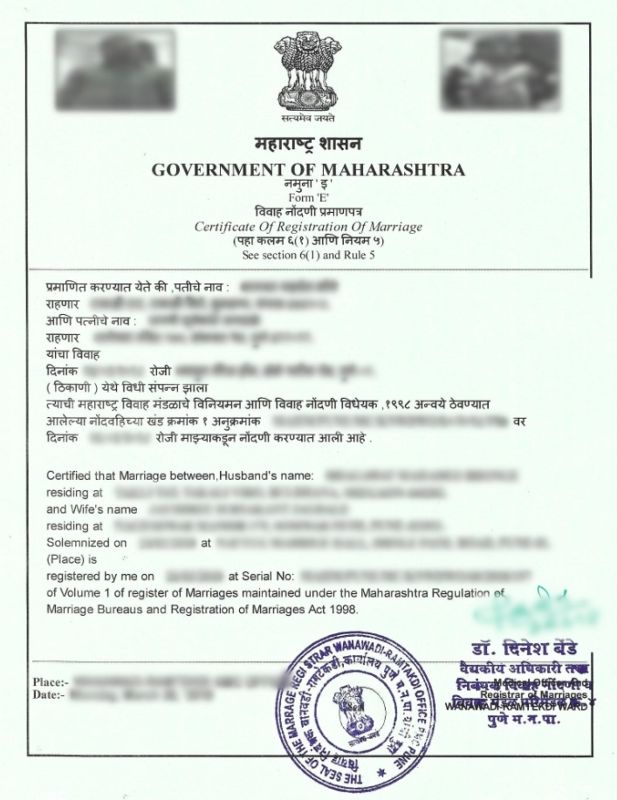 Eligibility Criteria
You will be issued a marriage certificate only if:
You or your spouse is a citizen of India.
Both of you are at the legal marriage age, which is 18 years or more for females and 21 years or more for males.
You or your spouse can't be in pre-existing marriage unless the previous partner is no longer alive or are legally separated from them at the time of registration of marriage.
Marriage Registration Acts
Currently, there ​are two marriage registration acts mentioned in the Indian marriage code of conduct:
Hindu Marriage Act, 1955: If both you and your spouse are either Hindus, Buddhists, Jains, or Sikhs, or if you were converted to any of these religions then the Hindu Marriage Act,1955 applies.
Special Marriage Act, 1954: If either one of you or both are not Hindus, Buddhists, Jains, or Sikhs then the marriage is registered under the Special Marriage Act of 1954.
Documents Required
Identity Proof
Address Proof
Age Proof
An application form signed and filed by both husband and wife
An Affidavits specifying the date and place of marriage, marital status at the time of marriage, date of birth and nationality
2 passport-sized photographs (one for each party)
1 marriage photograph capturing both husband and wife
Certificate from Priest of marriage solemnized at a religious place
Divorce Decree in case of divorce
Death Certificate of the spouse, in case of widow/widower
ID Proof and passport-sized photographs of 3 witnesses (preferably those who were present at the marriage)
Late affidavit ( in case application is submitted after 90 days of Marriage)
Documents Required for Identity Proof
Ration Card with Photo
Any Govt. recognized document
Documents Required for Address Proof
Rent Agreement (Registered )
Bank Passbook
Electricity Bill
Water Bill
Telephone Bill(Landline or Postpaid)
Any Govt. recognized document
Documents Required for Age Proof
Aadhaar Card (Verified DoB)
SSC from the recognized board by Government
Nursing home/Hospital Report/Vaccination
CMO / Doctor Report
Certificate from School signed by Principal on School Letterhead
Importance of a Marriage Certificate
A marriage certificate is a legal document that specifies the couple's marital status. It is a vital record that can be used to verify that you are lawfully married to another, as well as for reasons such as:
To change your maiden name
To obtain a passport or visa
To open a bank account
To obtain an income certificate
To obtain an insurance amount
To claim assets in the case of a will with a relative, and more.
Purpose of a Marriage Certificate
The aim of making marriage registration mandatory is to strengthen society.
Fair treatment for all parties (husband and wife).
For the purpose of claiming the heritage right.
Putting a stop to child marriage.
Keeping marriages safe from fraud.
How to Download Marriage Certificate?
Visit DigiLocker and click "Sign up". Fill in your details and hit "Submit". Your mobile number or Aadhar card number becomes your username.
Use your username and password to sign in again. You'll get an OTP on your phone. Enter it and click "Submit".
Look for the "Search Documents" tab on the left side.
Click "VIEW ALL (36)" under "State Government" and pick your state from the list.
Search for the certificate by typing"marriage certificate" in the search bar.
Click on the "Marriage certificate" tab. Put in your marriage certificate number and details.
Tick the checkbox and hit "Get Document".
Your marriage certificate will be in PDF format under "Issued Documents".
With these simple steps, you can easily access your marriage certificate pdf documents through DigiLocker, contributing to paperless governance.
Following is a list of government websites where you can apply for a marriage certificate online:
Below is a table that shows the state-wise links for applying for the EWS/Income certificate. Candidates can check the official website of their state to find out if the EWS Application process is online or offline. The table also provides the details of the authority that issues the certificate in each state.
Statewise Official Portal for Marriage Certificate
Frequently Asked Questions (FAQs):
How can I get a duplicate copy of my marriage certificate?
Ans: To get a duplicate copy of your marriage certificate, go to the General Registrar Office and fill out an application for a copy of your marriage certificate.
What is the cost of getting a marriage certificate?
Ans: There is no set fee for getting a marriage certificate; fees vary depending on the circumstances.
What is the marriage certificate's validity?
Ans: The marriage certificate is valid as long as the couple is together.
If you live in a city other than the one where you married, where do you get the certificate issued?
Ans: You can issue the marriage certificate from your new city as well; make sure you have residential evidence for at least one month at the new address, as well as the bride's address, before the marriage.
Is it necessary for me to go to the marriage registry office?
Ans: Yes, after completing all the required documents, both parties would be required to attend a single meeting at SRO. For their verification, the Registrar can ask some questions.
Is there a late fee if we don't register our marriage for years after the marriage date?
Ans: Many states do not charge late fees now, but some do charge a penalty of Rs 250 per year for late registration. Marriage registration must be completed within 60 days, according to a Supreme Court order.
What to do if the Nikahnama is in Urdu?
Ans: If both parties are Muslims, and the Nikahnama is written in Urdu, it must be translated into English.
What happens if we need to make changes to the Marriage Registration Certificate?
Ans: There is no need to pay a large fee; simply send an application to the same registry office where your certificate was previously registered.