Have you ever been worried sick when you could not spot an essential document, especially when you needed it the most? When you could not find that one document, which, if not procured right at that instant, would end up costing you money? How many times would you have wished for a system that magically procures your documents for you, right when you need them, without any hassle whatsoever?
Digilocker or the Digital locker is your solution to that. The Digital locker scheme was launched by Prime Minister Narendra Modi who aims to boost the Digital India initiative.
The Digi locker scheme allows people to store their important documents in a soft copy format thereby reducing the hassle faced when the hard copy is lost, misplaced or simply hard to find.
How to register for the Digi locker scheme?
In order to activate a digi locker account, the citizen is ideally required to sign up first. In oder to sign up, the applicant needs to have a valid mobile number to basically open an account in Digi locker.
Signing up for the digi locker is simple. Citizens simply have to follow these instructions.
Visit the official Digilocker website: https://digilocker.gov.in/ is the official website for the digi locker, and all things pertaining to it.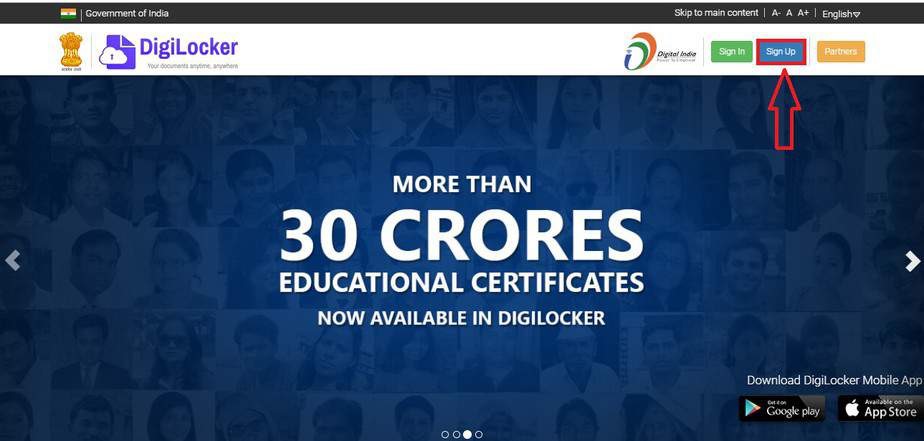 Click on the sign up button: You will see a "sign up" button given on the homepage of the website itself.
Once you click on sign up button, you will have to enter your mobile number and click on "Continue"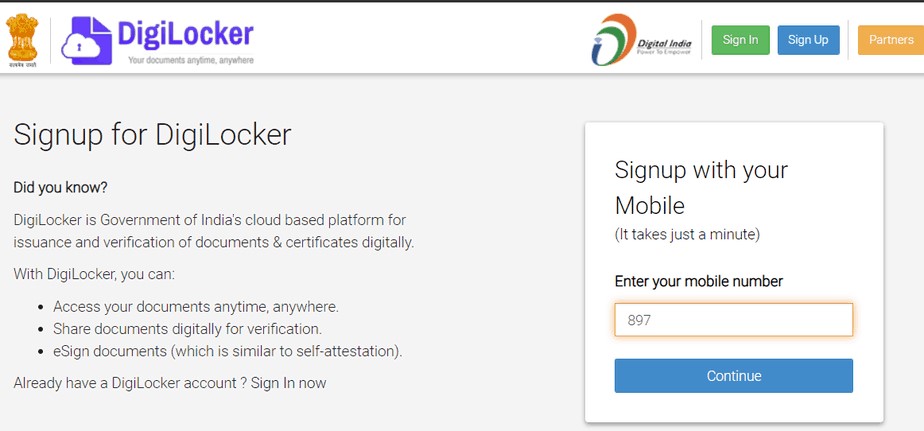 Once you click on continue, you will be taken to a page where you have to create your username and password as per the instructions given to you. You can also use your mobile number as your username or even your email ID can serve as your username.
Once you have setup your own user ID and password, you will have your account successfully created after you click on "Signup" button.
In order to further avail the benefits of Digi locker, you can fill in your Aadhaar details. The submission of Aadhaar details will allow you to avail various services on Digi Locker.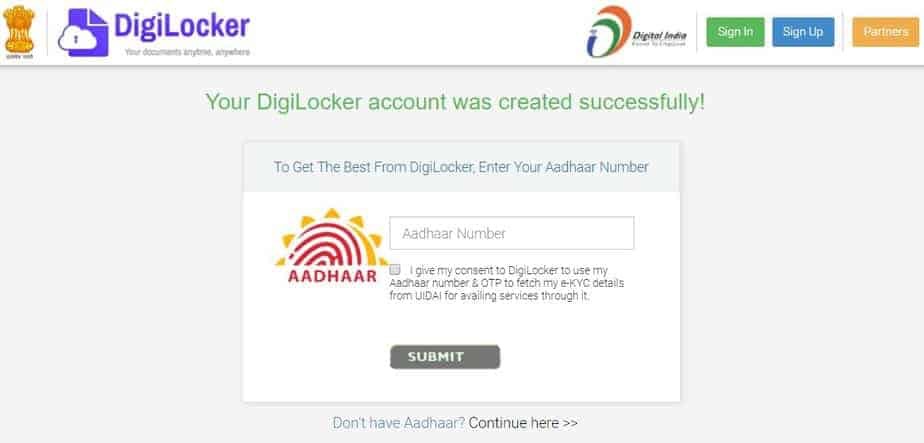 Once you have created your account and successfully filled in information, you can simply log in next time using your Username and password without any hassle whatsoever.
How can you go about uploading your certificates and documents?
Now, here is where the magic is. Think of all the documents that you feel you most often need, and how wonderful it would be if you could literally snatch it out of thin air and use it, whenever need be.
Digi locker is an electronic platform that allows you to do just that. You have to sign up on the digi locker app and you can upload your documents and certificates, whichever you need or you think you may need in the future.
Here is how you can go about it.
Sign up to your Digilocker account
Once you have successfully logged in, click on "Uploaded Documents"
Click on "Upload" mentioned on the screen in front of you.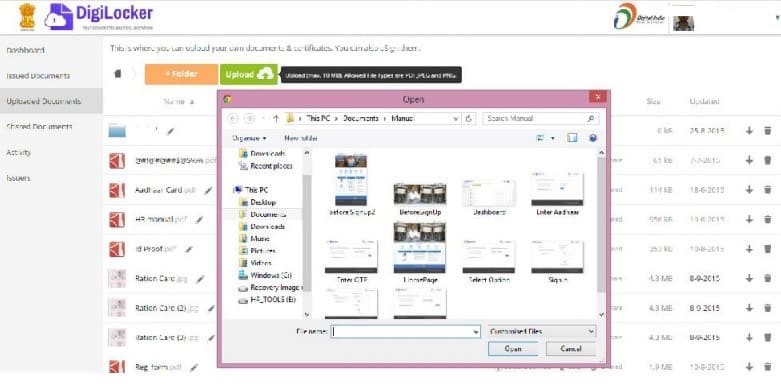 You can even upload more than one document at a time.

Once you hit the upload button, you will have to choose the location on your system and select the file or files you want to upload on your Digi locker account.
Once you have selected the file(s), you can click on "open" button.
The documents you selected will start loading one by one and you can see all the documents in the uploaded documents list.
Digi locker has an amazing feature where you can sort out your documents as per the nature of the document.
To do that, you have to click on, "Select Document type" for any of the documents you have uploaded in the list. Once you click on that, you will have a drop-down box appear in front of you. Select the document type.
In case the document you have uploaded does not match any of the predefined document type, then you will have to select the "Others" option in the drop-down box.
Once you have filled in your preferences, you can click on "Save" button.
How can you share documents via the digi locker?
Digi locker is full of surprises and another one in its wide list of options is the option to share files. Those who have digi locker account can share the uploaded documents through this portal.
Imagine you find yourself to be on a vacation and some colleague urgently needs your PAN or Aadhaar details to say, maybe book a ticket for a business meet. You find yourself nowhere near your PAN or Aadhaar Card.
Here's what you can do in that case.
Start by visiting the Digilocker website
Sign in using your credentials
Click on the "upload documents" option
List of all the documents you have uploaded and categorised will open up in front of you.
Click on the "share" option link on the same section
A pop up screen will appear where in you enter the email ID of the person/entity with whom you are going to share with
Click on the send button, once you have selected all the files you intend to send
Selected documents will be shared with the recipient you selected.
Note: You can only share one document at a time. You have to repeat the same procedure each time you want to share a document on Digi locker.
In conclusion
Digi locker is a digital manifestation of a personal genie that offers you the ease and accessibility of fetching your documents, irrespective of where you are. You can be rest assured that this is a safe portal, as it is taken care of by the experts on behalf of the government.
Gone are those days when you ran through drawer after another, looking for that one document you cannot find. With Digi locker, things have gotten really easy; literally as easy as clicking a few buttons on your device.