Aadhaar card is a unique identity pan nation, so that all your verification almost sits in one range of numbers. Earlier, the process of getting an Aadhaar card was a whole lot tedious. It included standing in long queues and getting your data secure only to get your card weeks, or sometimes even months, later.
This process, however, has gotten a whole lot streamlined over the years and with rampant digitisation all over, this process of procuring your Aadhaar is also an electronic process now.
Documents needed to get yourself Aadhaar card
Aadhaar essentially requires two types of documents – Proof of Address (POA) and Proof of Identity (POI).
| | |
| --- | --- |
| Proof of identification (POA) | Proof of Address (POI) |
| PAN card | Passport |
| Certificate of Birth | Ration/PDS card |
| | Voter Identification card |
| | Driving License |
Process of Getting an Aadhaar Card:
Book an appointment by walking into an Aadhaar Seva Kendra or book an appointment online
Contact the Help desk or show an appointment slip which must have been mailed to you
Go to the token desk
Move ahead to the Verifier who will verify the details your provide and enter it into the national database.
Payment at the cash counter
Update / enrol your details at the operator's desk
Quite often, you might have an Aadhaar number processed, but you still cannot, for some reason or another, get your hands on the physical copy of your Aadhaar card. How then can you go about this?
The solution is simple!
You can download Aadhaar card by just having your Aadhaar number as well.
Step by Step Guide to Download your e-Aadhaar Using Aadhaar Number:
If you have already been issued an Aadhaar Card and have your Aadhaar number, you can easily download your e-Aadhaar by following these steps:
Visit the official UIDAI website.
On the homepage, locate and click on the 'Download Aadhaar' option under the 'My Aadhaar' section.
A new page will open. You can download your e-Aadhaar using following three methods:
Using Aadhaar Number
Using 28-digit Enrollment ID (EID)
Using 16-digit Virtual ID (VID)
Now, Enter your preferred method like 12-digit UID (Aadhaar Number) and the displayed captcha code in the provided field.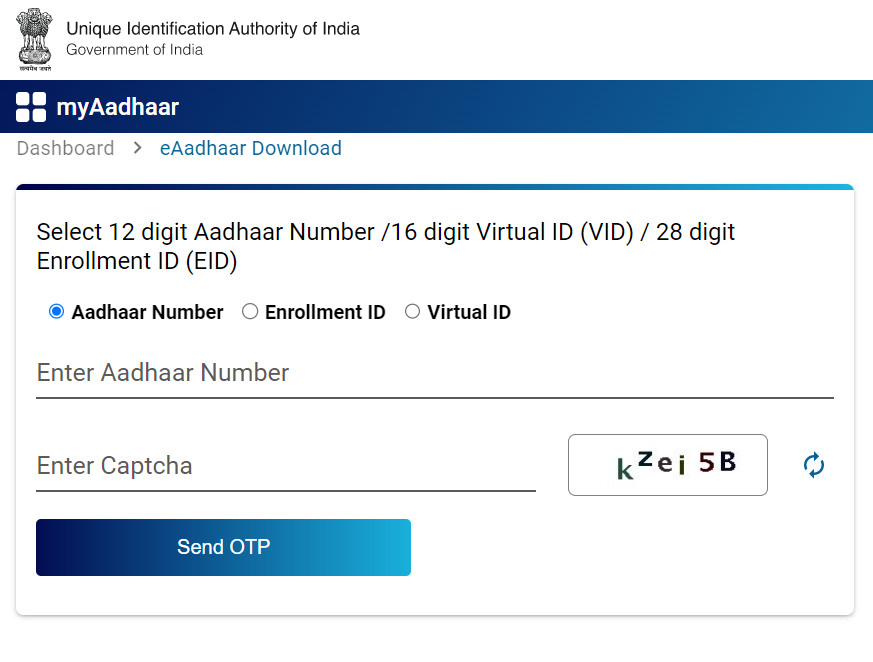 Click 'Send OTP' and enter the received OTP on your registered mobile on the website to proceed.
If you prefer to download a Masked Aadhaar, you can select the option during this step. Otherwise, you can proceed without selecting it.
Click on the 'Verify and Download' button.
Once the verification is successful, a password-protected PDF file of your e-Aadhaar card will be downloaded to your device. To access the PDF, enter the password: the first four uppercase letters of your name (as on Aadhaar) + birth year (YYYY). Example: "JOHN1990".
By following these steps, you can conveniently download your e-Aadhaar card and access it whenever needed.
Note: The steps may vary slightly depending on the website interface or any updates made by UIDAI.
Linking Aadhaar to PAN card
Linking your Aadhaar to PAN is an essential step that needs to be done. The procedure, at the outset might seem daunting but is actually quite simple.
Here is how you can go about linking your Aadhaar to your PAN card.
Step 1: log on to the Income tax department's official e-filing portal.
Step 2: Enter your PAN number and your Aadhaar Number. The name you mention should be the name as mentioned in your Aadhaar card and then you got to fill in the Captcha code. Click on the button that reads, "Link Aadhaar".
You have to make sure that the name mentioned in you Aadhaar is the same as the name mentioned in your PAN card. In case of any discrepancy, like there is any kind of a spelling error, the linking will not be possible. If the names mentioned in Aadhaar card and PAN card stand to be different, you will need to update your Aadhaar details.
Once you filled in all the information correctly and your details are verified, you will see a message flash on your screen as follows:

Note: The steps may vary slightly depending on the website interface or any updates made by Income Tax Department.
Eligibility for Aadhaar card
Any resident of India (including newborns and minors) are considered eligible for Aadhaar card. While the Aadhaar card is usually considered a card for adults, there is also a new section of Aadhaar now called "Baal Aadhaar" which is for children below the age of 5.
NRIs and foreigners who have been staying in India for more than 12 months are also considered eligible for the Aadhaar. It has also been proposed to issue Aadhaar for non-resident Indians who have an Indian passport on them. This would be after their arrival in India without having to wait for 180 days.
How to check Aadhaar status post application?
In order to check the status of your Aadhaar card, log on to the official UIDAI website, click on the option that reads 'Check Aadhaar Status' which would be under the Aadhaar enrolment tab. Enter your enrolment number, which is printed on the acknowledgment slip to check the current status of your Aadhaar card and how long would it take to reach you.
Summing it up
The Aadhaar is an essential document to have and its impact has been massive ever since it has been implemented. It is easy to apply, handy to have and has relevance across various sectors in India. It not only serves as a Proof of Identity but also as a Proof of Address.
An ultimate document to possess, the Aadhaar is amazing and has streamlined various processes all across the nation.