A character certificate, which is also sometimes called Police Clearance Certificate, is a legal document that testifies that an individual has no criminal or bad record at his/her previous institution. It is issued by the police, a government authority, or any other institution.
How to get a Character Certificate?
Obtaining a character certificate is simple if you have a clean background and no criminal records against you. It is dependent on the context where the certificate must be submitted. Consider the following example:
If you're applying to a university or college, you'll need to get a character certificate from your school principal. It will be signed by the principal, who will take account of your actions when you were at school.
If you are applying for a job as a fresher, you can request a character certificate from your university or college.
If you are changing jobs you can request a character certificate from your current employer.
A character certificate is also required when applying for immigration or travelling. In such cases, a Police Character Certificate with police verification would be needed. As a result, you can be considered safe in the country you're travelling to.
You may also apply for a character certificate online via the citizen website of your state government.
Step-by-Step Process to Apply for a Character Certificate Online:
Character certificates can now be applied online with comfort from your own home! Character certificate application forms are available on each state government's official citizen's website.
The application forms for character certificates are all the same. As a result, you'll have a good idea of how to apply for a character certificate application online:
To begin, go to your respective states Citizen Portal and look for the Character Verification/Character choice under "Citizen Services."
Create an account on the Character Certificate signup webpage. You must enter basic information, an email ID and a password to create your account.
The login page will appear after you have completed the registration process. Use your new email address and password to log in.
Once you have logged in, you must complete the Character Certificate application form with the necessary information. You'll need to fill out information including your name, parents' names, D.O.B., address, and phone number in the form.
You will be asked to list your criminal records if you have any on the Character Certificate application. If this is not the case, select 'no record' from the drop-down menu.
You must mention the police station in your area as well as the name of your district to cross-verify the details you entered.
Now, upload any required documents and save your progress.
To complete the Character Certificate application process, you must pay a fee after saving the details. Select the 'pay' option. It will guide you to a payment gateway where you can make a payment using Visa or MasterCard.
Keep a copy of the application form and unique ID with you for the verification process.
Verification Process:
The verification process will now begin. Once it is completed:
You can download the character certificate from the official website of the organization.
It is best to keep a hard copy of the certificate with you.
Once you've done that, verify the certificate from any authorized officer.
Get his/her signature on the certificate.
Remember, though, that at the time of verification you need to have the original documents. The officer will most likely need it for verification.
Step-by-Step Process to Apply for a Character Certificate Offline:
The applicant should go to their school/college/current employer/local police station. Consult them about the need for a character certificate, and follow their instructions.
Applicant must get the Character Certificate application form from the appropriate office. Alternatively, a written application on plain paper, as instructed, can be used.
Complete the application form and attach all relevant documents.
Officials will make a record and provide you with a record number for reference after reviewing the attached documents and application.
After this, the application will be processed internally. Respective authorities will perform on-the-ground verification of the applicant, as well as a thorough examination of the documentation and information submitted by the applicant.
Following the completion of the verification, these officials will send their report to the appropriate authority, which will make a decision and grant the Certificate to the applicant.
After proper processing, the applicant will receive the certificate within the specified time frame.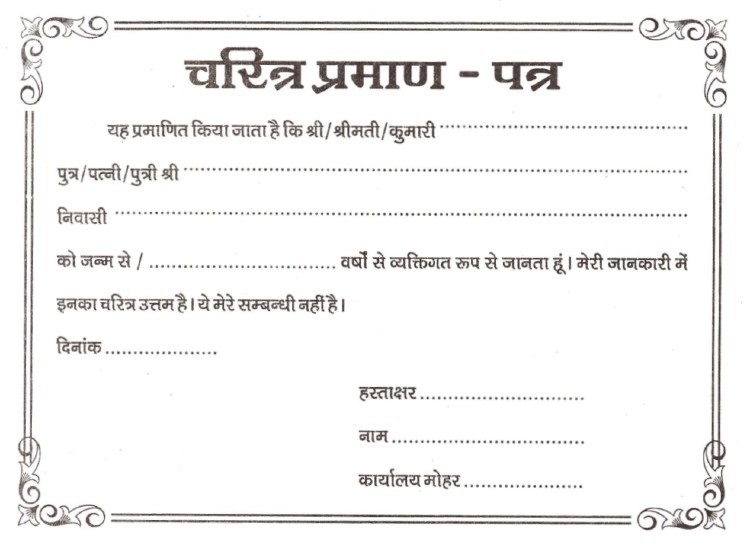 What are the uses of Character Certificate?
Character certificates come in handy for the following purposes:
If you're applying for a scholarship, you'll need to furnish a character certificate. Most academic institutions provide their former students with the certificate. It helps certify how the student behaved during his/her academic years at the institution.
A good character certificate is a testament that the individual has integrity and showcases good business conduct.
Some companies will ask new joiners to get a character certificate from their previous organizations. This helps them learn whether the joiner has a clean background and whether he/she will fit into the company's ethics.
Nobody wants a person with criminal records or a history of bad behaviour to enter their country. Hence, a character certificate is needed during immigration.
Key Documents required to Apply for Character Certificate:
Correctly filled application form
Details about the certificate's intent and requirements
Passport size photograph (as applicable)
Proof of Identity
Proof of Address
Proof of Age
Documents Required for Proof of Identity:
Ration Card with Photo
Identity card issued by government or semi-government organizations
Documents Required for Proof of Address:
Rent Agreement (Registered )
Bank Passbook
Electricity Bill
Water Bill / Telephone Bill(Landline or Postpaid)
Documents Required for Proof of Age:
School Leaving Certificate
Bonafide Certificate
List of Government websites where you can apply for a Character Certificate:
Frequently Asked Questions (FAQs):
Here are some common FAQs regarding character certificates:
Q: Who can sign a character certificate?
Ans: The following individuals can sign a character certificate:
Gazetted officers
Collector
Doctor
Headmaster of school
IAS officer
MLA or MP
Police officer
Researcher or scientist in service with the govt
Q: What is the validity of character certificates?
Ans: Character certificates are valid for 6 months from the date of issues. It can, however, change depending on the organization.
Q: How do I get a character certificate?
Ans: Character certificates can be issued by educational institutions (for students), places of employment (for employees) and government institutions.