Do you need to make changes to your Permanent Account Number (PAN) card's details, such as your name, address, date of birth, or mobile number? If so, you're not alone, as many people struggle with this issue. But the good news is that the process of PAN card correction is now easier than ever, thanks to online applications.
In this blog, we'll provide you with a step-by-step guide on how to correct the personal details on your PAN card through online pan card correction applications. So, let's get started and ensure that your PAN card reflects accurate and up-to-date information!
Steps to Change/Update details of PAN card online:
Step 1: Go to the NSDL e-Gov portal. NSDL is the government agency that looks over the processing of PAN card applications and their updates.
Step 2: Click on "Services" and from the drop-down menu select the "PAN" option.

Step 3: Find "Change/Correction PAN Data" by scrolling down and selecting the "Apply" option from the list of given options.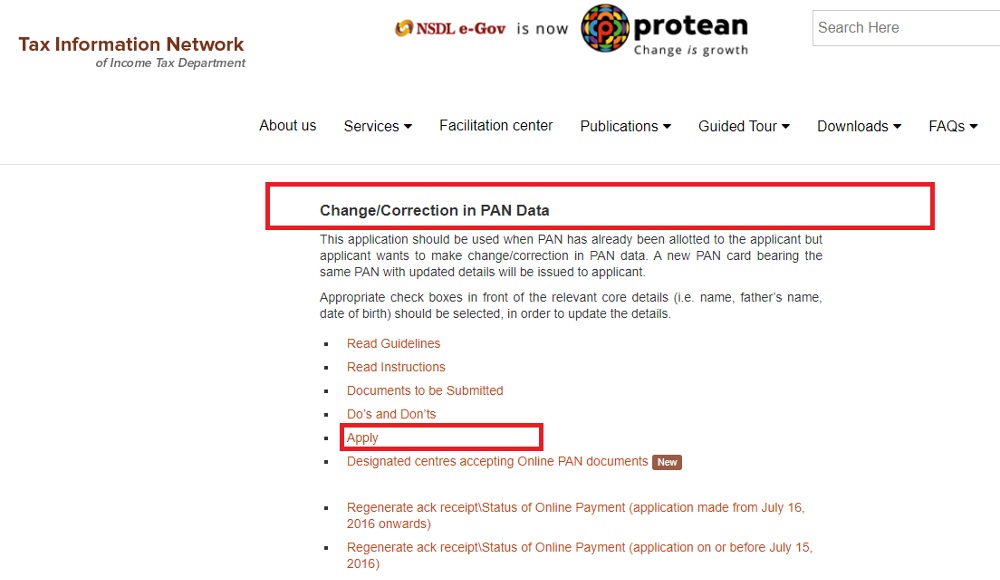 Step 4: Now under Application type, select "Changes or Correction in existing PAN Data / Reprint of PAN Card" from the options available.
Step 5: Select the category that matches your situation from the drop-down menu. If you're only filing your income tax return and don't have a business, simply choose the relevant category.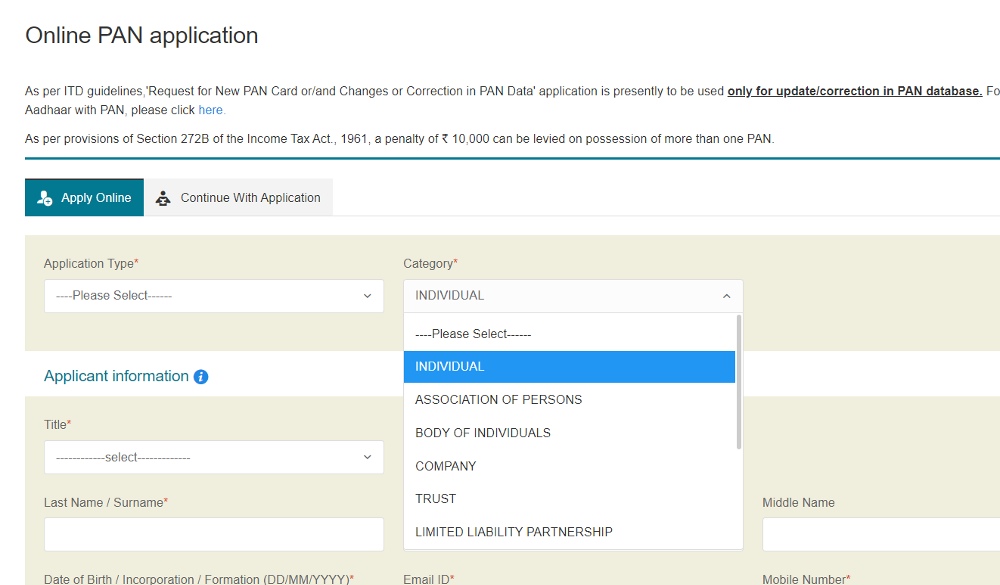 Step 5: Fill out all the other details required in the form such as Name, Date of Birth / Incorporation / Formation, Email ID, Mobile Number, Citizenship (Indian or not) and PAN number.
Step 6: Type in the captcha code and then submit.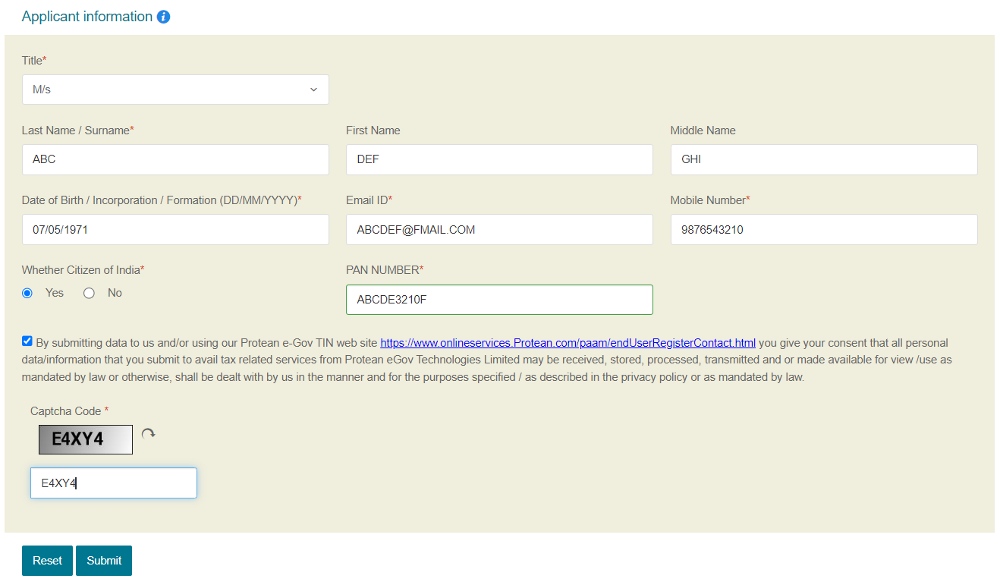 Step 7: You'll be given a temporary acknowledgement number after this process to track your application.

Step 8: On the next page, you will need to upload scanned copies of your proof of identity and proof of address documents.
Step 9: If you want to complete the whole process using an Aadhaar card, select the "Submit digitally through eKYC" option. Select whether you need a physical copy or not. Nominal application fees will be charged.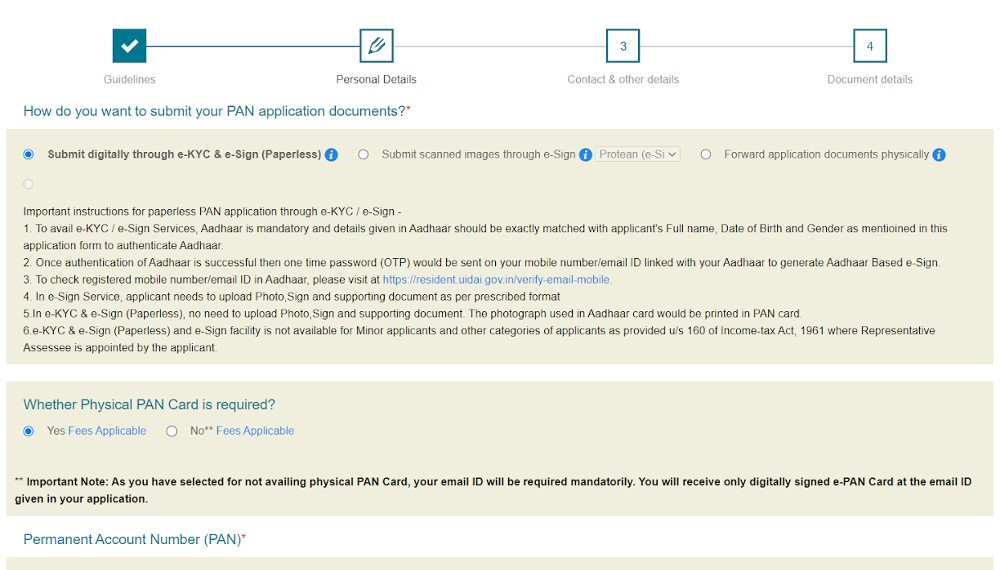 Step 10: Scroll down and type in the last four digits of your Aadhaar number. Also, make sure all the required details such as Name, Father & Mother's name are correctly filled and click on the next button.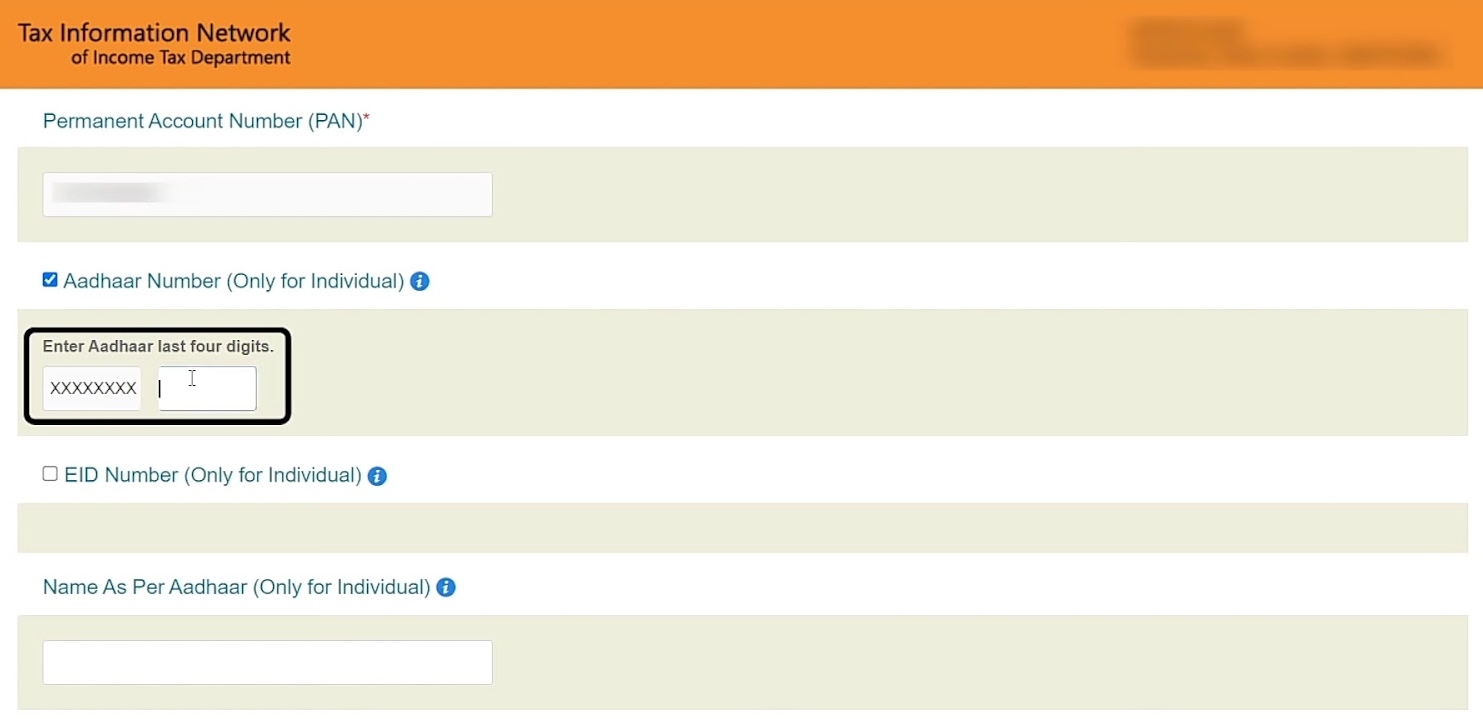 Step 11: Update the necessary information by scrolling down. Make sure you select the appropriate option for the field change or update which is needed. Then, press 'Next' to go to the next page 'Contact and other details.
Step 12: You can update the address details on this page.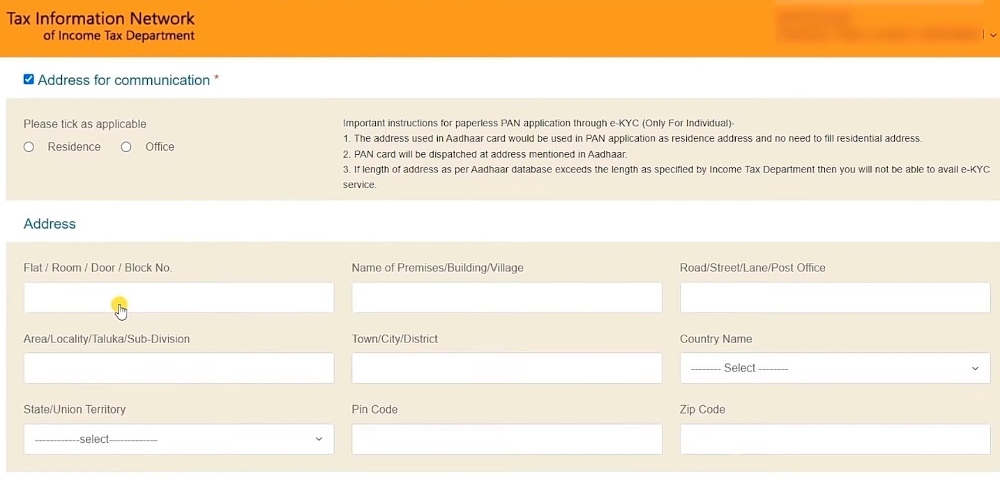 Step 13: Add the address details to be updated and submit all the proof documents along with a PAN card copy.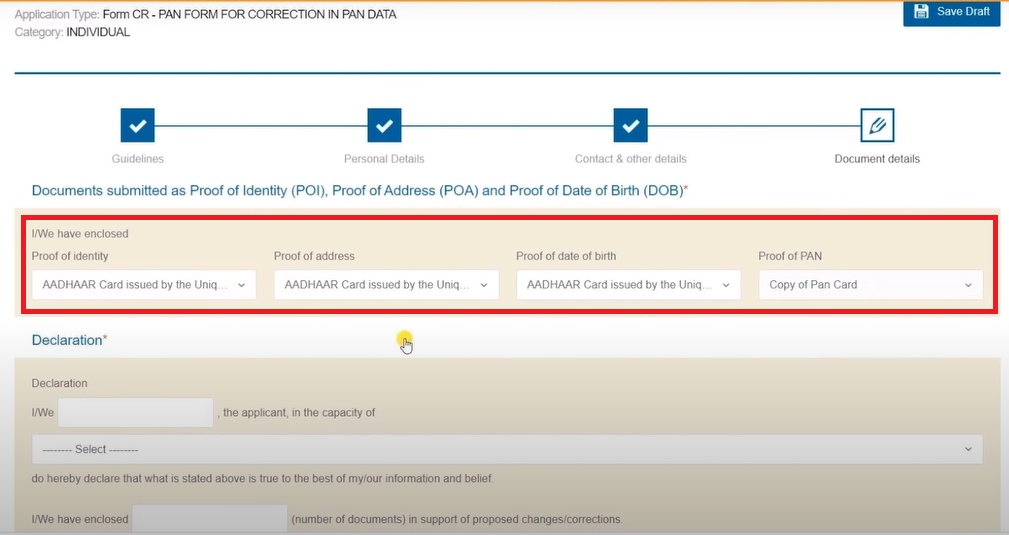 Step 14: Write your name, select "himself/herself" in the dropdown, write the number of documents submitted and the place you live in the declaration and click on the submit button.

Step 15: You will see the options to attach your photo and signature if you scroll down. Make sure they have the dimensions and sizes as specified. After attaching the documents, press the "submit " button.

Step 16: A preview of the form will appear, enter the first 8 digits of your Aadhaar card and check whether all the details filled in by you are correct.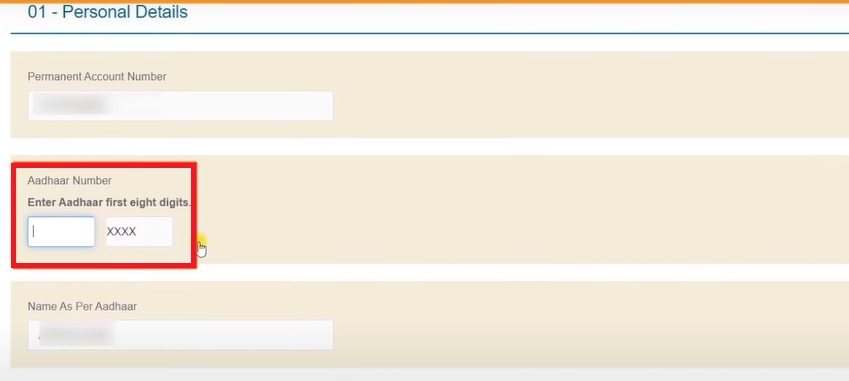 Step 17: You will be redirected to a payment gateway (UPI/credit card/debit card). Select your mode of payment and pay the amount. After a successful payment, you will receive a receipt of the transaction which you can print or save.

Step 18: To complete the process, press "continue', you will be redirected to complete the KYC process. Select the option to accept terms and conditions and press "Authenticate".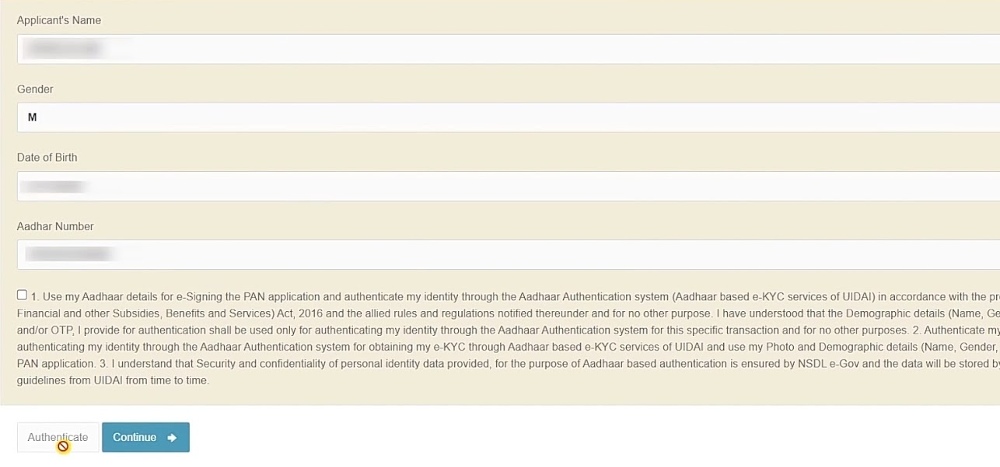 Step 19: Enter the OTP sent to your Aadhaar registered mobile number and press "submit" to submit the PAN application form.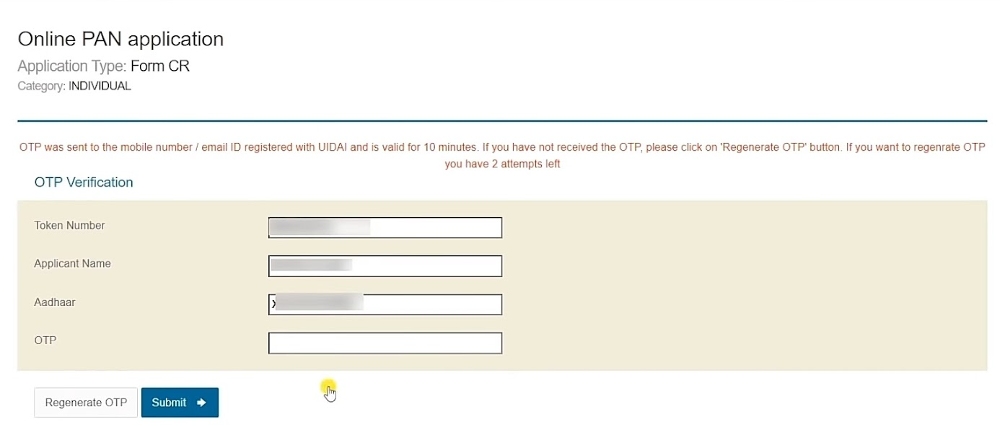 Step 20: You will be redirected to the next page where you will have to click on "Continue with eSign".

Step 21: Click on the box to accept the terms and conditions. Enter the last 4 digits of your Aadhaar number and press "Send OTP".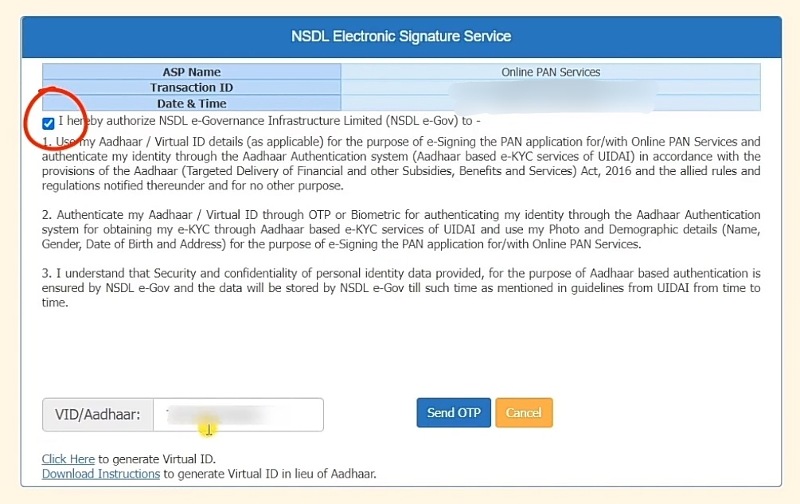 Step 22: Enter the OTP sent to your registered number and click on verify. Download the acknowledgement form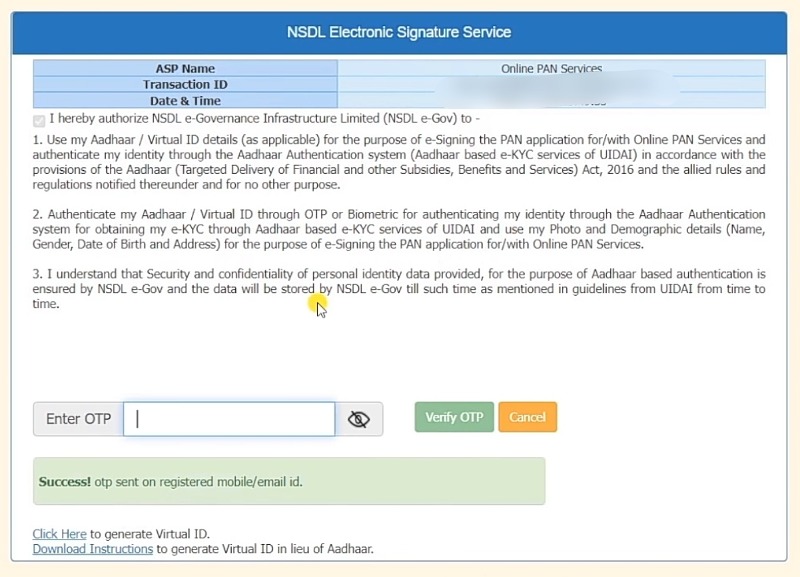 How to do PAN Card Correction via UTIITSL Portal?
Step 1: Go to UTIITSL website.
Step 2: On the homepage, click on the "Click to Apply" button under the "Change/Correction in PAN Card" tab.
Step 3: Click on the "Apply for Change/Correction in PAN card details" tab on the next page.
Step 4: Select the mode of submission of documents and provide your PAN number and PAN card mode. Click on the "Submit" button.
Step 5: Once your request is registered, you will receive a reference number. Click "OK" to proceed further.
Step 6: On the next page, enter your name and address and click on the "Next Step" button.
Step 7: Enter your PAN number and verification details, such as your date of birth, and click on the "Next Step" button.
Step 8: Upload required documents and click "Submit". Ensure documents are clear and in the correct format.
Once you have completed all these steps, your application for PAN card correction will be processed, and you will be notified of the outcome via email or SMS.
Offline Procedure for PAN Card Correction:
Download and print the application form for PAN card updation online.
Fill out the form and submit it to the nearest PAN centre with all the necessary documents attached.
After you have submitted the form and paid for the charges, you will get an acknowledgement slip at the centre.
Send the acknowledgement slip to the Income Tax PAN Service Unit at most 15 days.
Also Read: How To Change PAN Card Address: Step-by-Step Process
What kind of documents are needed:
Before starting the application process of changing your details on the PAN card, make sure to gather a few important documents. These include:
A copy of your PAN card.
Proof of Identity.
Proof of address.
DOB Proof
How to Check the Status of PAN Card Correction?
Want to check the status of your PAN card correction application or download your updated PAN card? No problem! Just follow these easy steps:
To check the status of your PAN card change application:
Visit the NSDL PAN or UTIITSL website.
Click the 'Know Status of PAN application' or 'Track PAN card' option.
Enter your 'Acknowledgement Number' and Captcha code, and click 'Submit'.
Your PAN card correction status will be displayed on the screen.
How to Download Your Updated PAN Card?
Visit the NSDL PAN or UTIITSL website.
Click the 'Download e-PAN/ e-PAN XML' option.
Enter your PAN number, date of birth, GSTIN (if applicable), and Captcha code and click 'Submit'.
Your e-PAN card will be downloaded, or a link to download it will be sent to your email.
What are the Charges for the Updation Process:
You will have to pay Rs. 107(if given an Indian address for communication), or 1017(if given an overseas address for communication) If you have submitted a physical application at the TIN centre for the physical copy of PAN
If your mode of submission of documents is online, you will have to make a payment of Rs.110 if you are located within India, and Rs.1,020 if you are located outside India.
If you only wish to get your PAN reprinted and haven't made any updates, you will have to pay a sum of Rs. 50 if you are located in India and Rs. 959 if your residence is outside India.
If you wish to get only a digital copy of the PAN and not a physical one, you will pay a sum of Rs. 66 only. (additional charges for eKYC may apply.)
Frequently Asked Questions:
1. How many days are required for PAN card correction?
Ans: The time it takes for a PAN correction card depends on how you apply and how fast the Income Tax Department processes it. Usually, it takes about 15-20 working days for the correction process to be completed, but it may take longer if there are any mistakes in your application or documents. It's a good idea to keep checking the status of your application to make sure it's being processed on time.
2. Who can request changes or corrections in PAN data?
Ans. If you have a PAN card and want to make any changes or corrections to your PAN data, you can apply for the same. This applies to both individuals and companies. However, you must have adequate proof to support your claims.
3. Do I need to pay any fee while requesting corrections in my PAN card details?
Ans: Yes, there is a fee associated with making corrections or changes in your PAN card details. The fee may vary depending upon whether you want a physical PAN card or not, how you apply for PAN Card correction/update- online or offline, and whether your communication address is an Indian or foreign address. The fee can be paid through online modes or by cheque or demand draft.
4. Are the PAN card form and the PAN card correction forms different?
Ans: Yes, the forms are different. If you are an Indian citizen applying for a fresh PAN card, you need to fill out Form 49A, and if you are a foreign citizen, you need to fill out Form 49AA. However, if you are applying for updating details on the PAN card, you need to fill out the 'Request for New PAN Card or/and Changes or Correction in PAN Data Form'.
5. How to request a new PAN card online without any changes in details?
Ans: If you want a new PAN card without any changes in the details, you can apply for a duplicate PAN card using the same Form 49A. You need to mention all the information as mentioned in the PAN card and not tick it in front of any field. The payment for the reprint will also remain the same.