In today's highly competitive business landscape, expanding beyond domestic markets is a common goal for many entrepreneurs. With the advancements in technology and the internet, conducting global business has become more accessible. Import Export Code (IEC) is a mandatory import export license for individuals or businesses engaged in import or export in India.
It is issued by the DGFT (Director General of Foreign Trade) and consists of a 10-digit code with lifelong validity. Importer merchants cannot import goods without an IEC, and exporters cannot avail of benefits from DGFT schemes without it.
When is an Import Export License Required?
Situations, where Import Export Code (IEC) license is necessary, include:
Customs Clearance: When an importer needs to clear shipments through customs, the IEC is required by the customs authorities.
Money Transfers: When an importer sends money abroad through banks, the IEC is necessary for the bank.
Shipment Dispatch: When an exporter needs to send shipments, the IEC is required by the customs port.
Foreign Currency Receipts: When an exporter receives payment in foreign currency directly into their bank account, the IEC is required by the bank.
How to register for Import Export License?
The steps involved in IEC registration are as follows:
Visit the DGFT website and select the 'IEC Profile Management' option under 'Services'.
Choose the 'Apply for IEC' option on the page, then click on 'Register'.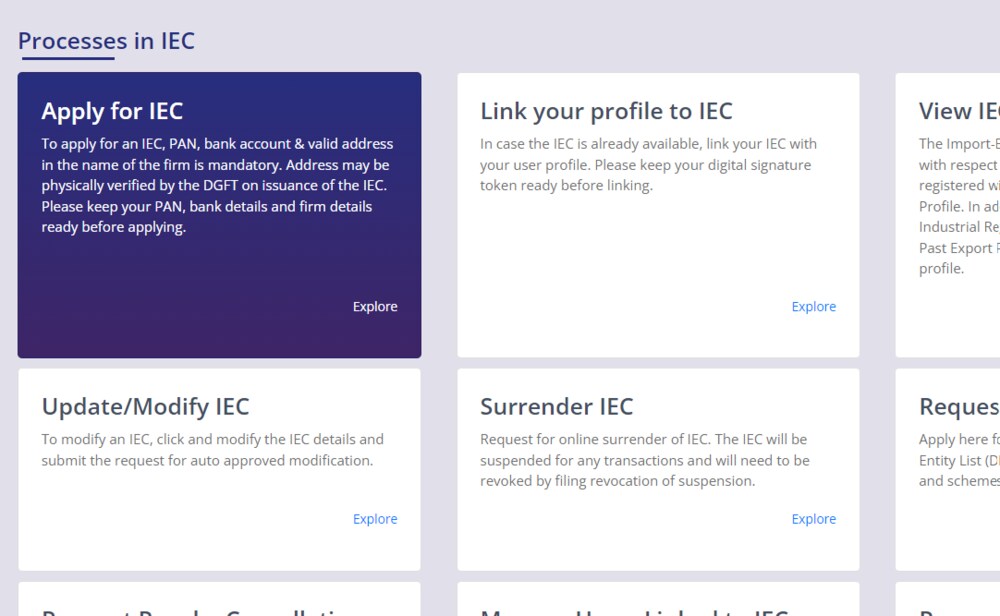 Register by filling in the required details and OTP.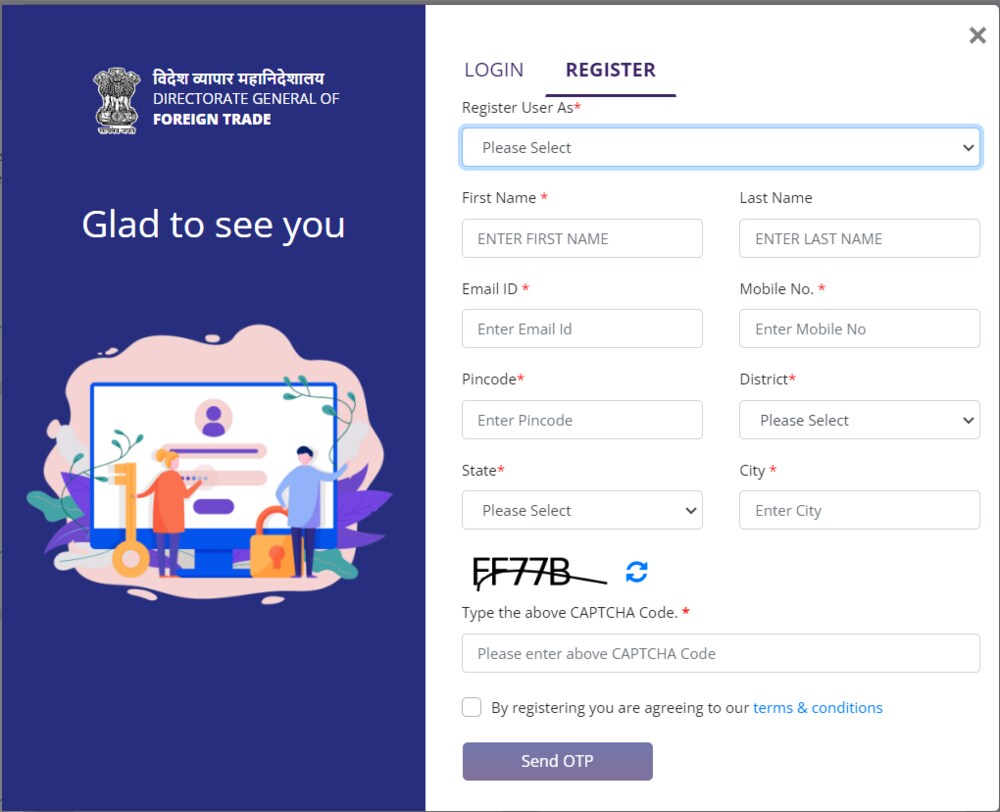 You will receive an SMS with a temporary password once the OTP has been verified. You can change this password upon logging into the DGFT website.
Log in to the DGFT website after registering, using the provided username and password.
Fill out the application form (ANF 2A format), upload the necessary documents, pay the application fees, and submit the application.
Once the IEC code is generated by the DGFT, you can print your import export license certificate.
Import Export License Document Lists:
The documents required for IEC registration include:
Copy of PAN Card (individual, firm, or company)
Voter ID/Aadhaar Card/Passport copy (individual)
Canceled cheque copies of current bank accounts (individual, firm, or company)
Rent/Lease agreement or electricity bill copy of the business premises
Self-addressed envelope for IEC certificate delivery
How to Renew or Edit Import Export Code (IEC) License?
The IEC has to be renewed annually between April and June. If you do not renew it, it might lead to the deactivation of your IEC. Follow the steps below to renew your IEC:
Login to the DGFT website and provide the IEC code allotted to you.
Go to 'Update/Modify IEC' and fill out the application for the update.
Click on the submit button.
Benefits of Import Export Code (IEC) Registration:
1. Business Expansion: IEC facilitates global market access and enables business growth.
2. Availing Benefits: IEC registration allows companies to avail benefits from DGFT, Export Promotion Council, Customs, and other relevant entities.
3. No Return Filing: IEC does not require filing any returns, and there is no need for renewal.
4. Easy Processing: Obtaining an IEC code from DGFT is a straightforward process that takes around 10 to 15 days.
5. Lifetime Validity: IEC code remains valid for the lifetime of the entity and can be used for all import and export transactions.
Exceptions, where IEC is not mandatory, include traders registered under GST, where their PAN serves as the IEC code for import and export purposes. Personal use of goods without commercial intent, export/import by the Government of India departments, ministries, and notified charitable institutions also do not require an IEC.
What are the Import Export Code Registration Fees?
As per the recent notification by the DGFT, the government charges a fee of ₹500 for applying for an IEC code. This import export license fees should be paid by the applicant entity during the application process. The payment can be made online using Credit/Debit Cards, UPI, or Net banking
Frequently Asked Questions (FAQs):
1. Is it necessary to have an IEC certificate?
Ans: To start an import/export business in India, one needs to obtain an IEC. Without an IEC, no one can import or export goods in India, except for some exempted categories. However, for exporting services, IEC is not required unless the service provider wants to avail of benefits under the Foreign Trade Policy or deals with specified services or technologies.
2. How to print an IEC certificate?
Ans: To print or download Import Export Code (IEC) certificate, follow the below steps:
Go to the DGFT website and click on the 'services' tab.
Select 'IEC Profile Management' from the options
Click on the 'Print IEC' button on the next page.
Verify the details and print the certificate.
3. Should the IEC profile be updated every year?
Ans: Yes, if the IEC profile is not updated every year it will be deactivated. You can reactivate it after updating.
4. Can an individual apply for IEC?
Ans: Yes, if you are a proprietor of any business you can apply for an IEC certificate by using the name of the company for registration.
5. Can I cancel my IEC?
Ans: If you want to cancel your IEC, you can do the same using an online request to surrender your IEC on the official DGFT site. Submit the necessary documents required and 'Surrender IEC' by completing your application. Post submission your IEC will be surrendered and any import/export transactions after that will be revoked.
6. Can the IEC code be used anywhere in India?
Ans: Yes, the IEC code is applicable anywhere in India.