MSME stands for micro, small, and medium enterprise. It basically includes companies that are still in the growth phase in the country. There are currently over 63 million MSMEs in India, which is the second-highest in the world after China. The MSME registration process is fully online, paperless & based on self-declaration.
How to register your MSME Online?
The Government of India regularly comes up with schemes and policies to help MSMEs grow faster. However, you can't avail of those benefits unless you've registered your MSME. Follow these steps to register your business online: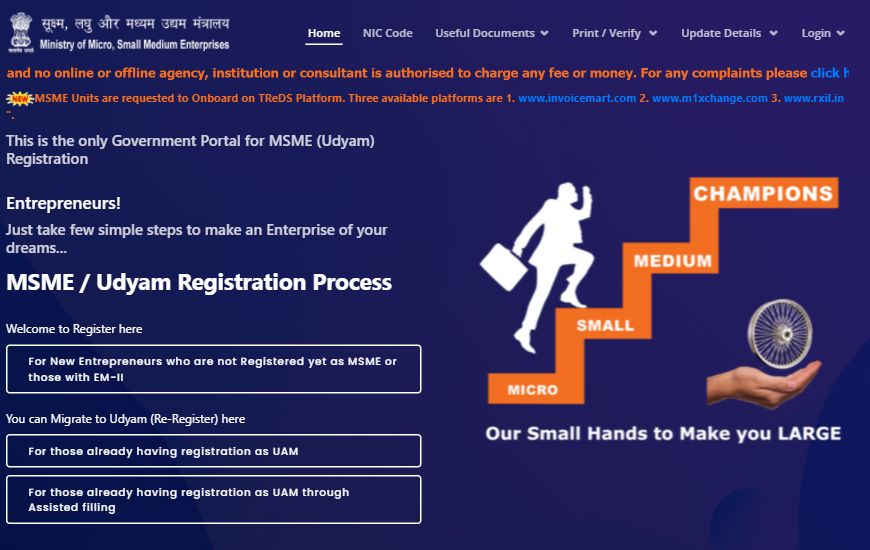 If you are registering your business as an MSME for the first time, click on the first link displayed on the page. However, if your business is already registered as an MSME, select the second option.
Now, enter the Aadhaar Number and Name and then click on 'Validate & Generate OTP'.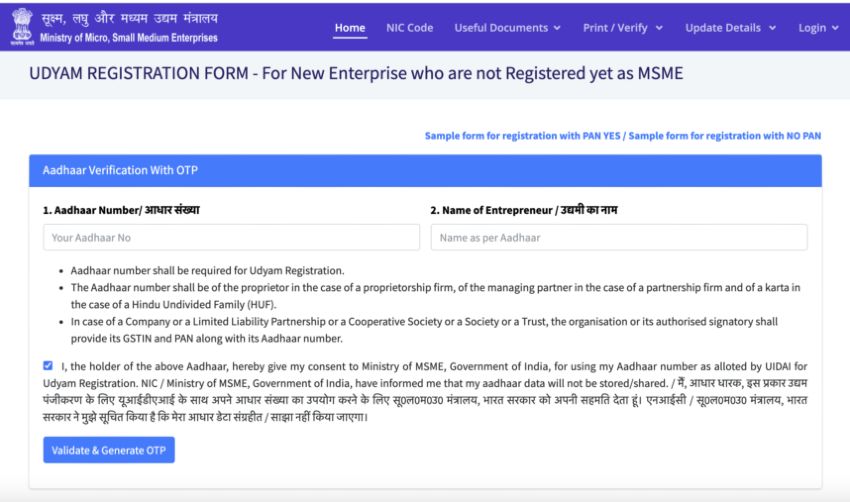 After you've done the verification, you will have to fill in the PAN details. Enter it correctly. If you don't have a PAN card yet, select 'No.'

The process to fill the form begins here. Ensure that you double-check all the details correctly.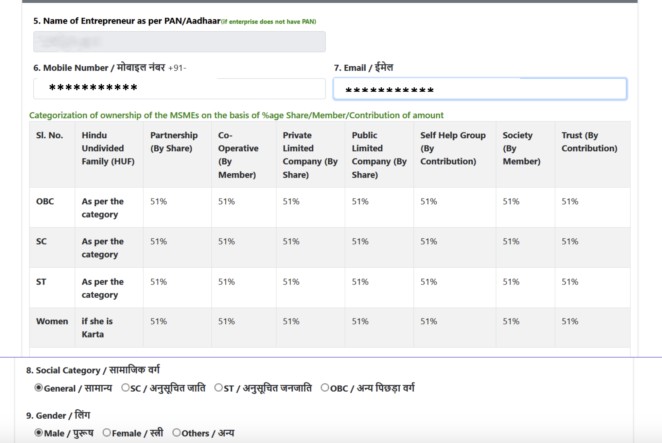 Once you've finished entering the details, request an OTP. It will be sent to the phone number that you've entered. Enter the OTP and verification code to submit the form successfully. You won't have to pay any money while submitting.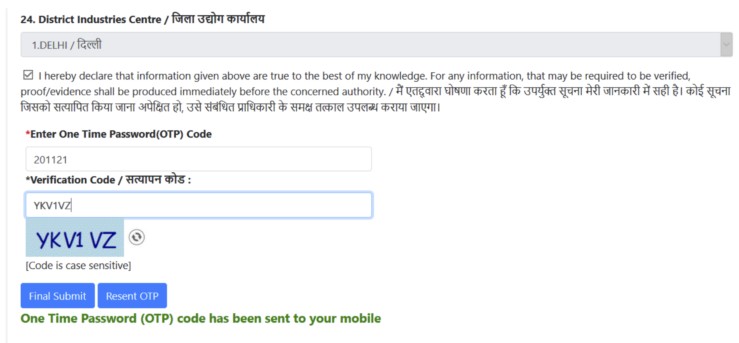 A new screen will open, with a "Thank You" message and a Registration Number. Ensure that you note this number down for future reference.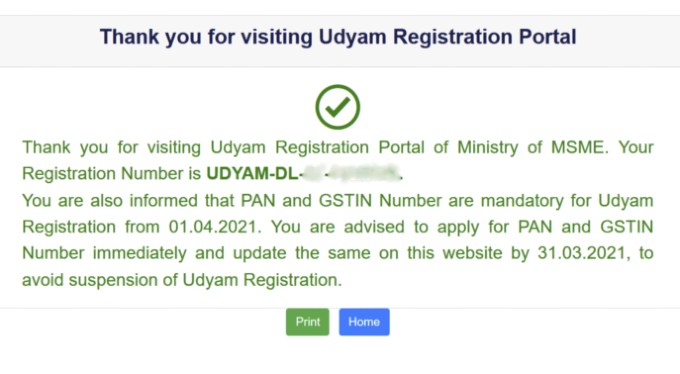 The relevant authorities will then scrutinize your application. If everything's clear, your application will be approved in 2-3 days.
The MSME certificate will then be delivered to you via email.
Registration without PAN or Aadhaar Card:
If you don't have a PAN or Aadhar card, you can still register your MSME. Till the time you don't receive the Aadhaar, you can proceed with UAM registration by the respective DIC or MSME-DE for the enterprise or business. You can use either of the following documents instead of an Aadhar card to register your MSME:
Aadhaar enrolment copy
Aadhaar enrolment request copy
Voter ID, Driving license, Passport, PAN card, Employee ID, and Bank passbook
The same goes for the PAN card as well. If you don't have it, select 'No' under the heading "Do you have PAN?" on the PAN Verification page.
MSME Classification:
The current MSME classification system was based on factors such as machinery and equipment or machinery investment. As a result, to enjoy the benefits of MSME, they must restrict their expenditure to a lower level, as detailed below:
| Sector | Criteria | Micro | Small | Medium |
| --- | --- | --- | --- | --- |
| Manufacturing | Investment | < Rs.25 lakh | < Rs.5 crore | < Rs.10 crore |
| Services | Investment | < Rs.10 lakh | < Rs.2 crore | < Rs.5 crore |
Previous MSME Classification
Since MSMEs are unable to scale their companies any further, these lower limits are destroying the desire to develop.
Hence, the Central Government recently revised this concept of Micro, Small, and Medium Enterprises (MSMEs) on May 13, 2020. Investments are no longer the sole criteria for defining an MSME. Along with 'investment in plant and equipment,' FM Nirmala Sitharaman has incorporated 'annual turnover' as a new principle.
| Criteria | Micro | Small | Medium |
| --- | --- | --- | --- |
| Investment & Annual Turnover | < Rs.1 crore & < Rs.5 crore | < Rs.10 crore & < Rs.50 crore | < Rs.50 crore & < Rs.250 cror |
Revised MSME Classification
Documents Required for MSME Registration:
Address of the business
Bank account number
Basic business activity
Partnership deed
Investment details (Plant/equipment details)
Turnover details (as per new MSME definition)
NIC 2 digit code
Sales and purchase bill copies
Copies of licenses and bills of purchased machinery
Benefits of MSME registration
Being an MSME is a matter of pride, as they are the backbone of the country. That is, however, just one in countless reasons to register your business as an MSME. Some of the other top reasons for MSME registration are:
You can avail cheap loans. Banks and other financial institutions charge interest of around 1-1.5% for MSME. To enjoy it, though, your business must be registered as an MSME.
MSMEs are also given preference for government tenders. All the tenders are available on the Government's e-Marketplace. It is integrated with Udyam Registration Portal and that gives MSMEs easy access to the government's marketplace and e-tenders.
Tax rebates are also customized for MSMEs and they are also given access to credit for Minimum Alternate Tax (MAT).
How to check MSME Registration status?
You can check the status of your MSME application by going to the MSME registration official portal or by clicking here.
You need to enter your 12-digit UAM number (i.e. DL05A0000001) and valid verification code as given in the captcha image.
To check the status of your MSME registration online, click on the 'Verify' button.
How to download an MSME Certificate?
You can download/print your MSME registration certificate by clicking here.
Enter your 12 digit UAM No. i.e. DL05A0000001 and mobile number as per Udyog Aadhaar certificate
Click on "Download" to download your MSME Certificate.
MSME Schemes launched by the government:
1. Udyog Aadhaar Memorandum:
In this scheme, MSMEs can avail credit, loans, and subsidies from the government.
2. Zero Defect Zero Effect
In this scheme, Goods that are produced for trade need to follow certain standards to avoid being refused or returned to India. If goods are exported, then MSMEs enjoy certain discounts and rebates.
3. Quality Management Standards & Quality Technology Tools
This scheme aims to help MSMEs understand and incorporate the quality benchmarks that are required to be kept up together with modern technologies. It promotes healthy competition between various enterprises to ensure better product production.
4. Grievance Monitoring System
This scheme was created to track and respond to concerns and suggestions from business owners. Business owners can track the status of their complaints and file new ones if they are dissatisfied with the outcome.
5. Incubation
This scheme assists entrepreneurs in getting their new ideas, concepts, or products into action. The government will fund up to 80% of the project cost under this scheme.
6. Credit Linked Capital Subsidy Scheme
This scheme provides modern technologies to business owners to replace their outdated and inefficient technology. These small, micro, and medium-sized businesses will approach banks directly for these subsidies.
7. Women Entrepreneurship
This programme was created for women who want to start a business. The government provides these women with resources, guidance, training, and distribution strategies to help them grow and grow their businesses.
Frequently Asked Questions (FAQs):
Q. Is it necessary for MSME to register?
Ans: No, MSME registration is not required. But, there are many benefits to MSME registrations, including lower interest rates on loans, lower manufacturing costs, and preference for government contracts. As a result, it is recommended.
Q. What is an MSME registration certificate, and what does it entail?
Ans: The MSME registration certificate is proof that an MSME has been registered. When an MSME application is approved, the certificate is issued.
Q. How much is the MSME Certificate Update Fee?
Ans: Free of charge for MSME Registration and MSME Certificate Fee.
Q. When will the MSME Certificate be issued?
Ans: An MSME Certificate is given within 1-2 working days after the form is submitted.
Q. How long is the MSME certificate valid for?
Ans: The MSME certificate is valid for as long as the business is operational. But, a provisional MSME certificate is valid for five years. Call the MSME customer service line at 18001237376 for more detail.
Q. What are the chances of an online MSME application being rejected?
Ans: There are many reasons for MSME application rejection. It can be due to loan defaults, low CIBIL score, unpaid debts, low cash flow, a lack of a business plan, insufficient documents, false details, and so on.
Q. Is it possible for an individual to apply for MSME?
Ans: Individuals cannot register for MSME; only companies and enterprises can. But, a one-person enterprise or corporation, is eligible for MSME registration. The one-person business process and fees would be the same as the normal MSME process and fees.