Aadhaar over the years has grown to be one of the most important documents. However, as it is the case with documents, even the Aadhaar is likely to get lost sometimes. Should you panic then?
We suggest you mustn't.
Why, you ask? Because you can download your Aadhaar, even if it isn't registered with your mobile number.
How to download Aadhaar without registered mobile number?
Usually, without your mobile number registered, you cannot get your Aadhaar online. You can follow the steps mentioned herewith, in that case.
Visit the official website of Aadhaar at UIDAI
On the homepage, click on the option "My Aadhaar"
Once you click that, click on "Order Aadhaar Reprint" under 'My Aadhaar" as shown above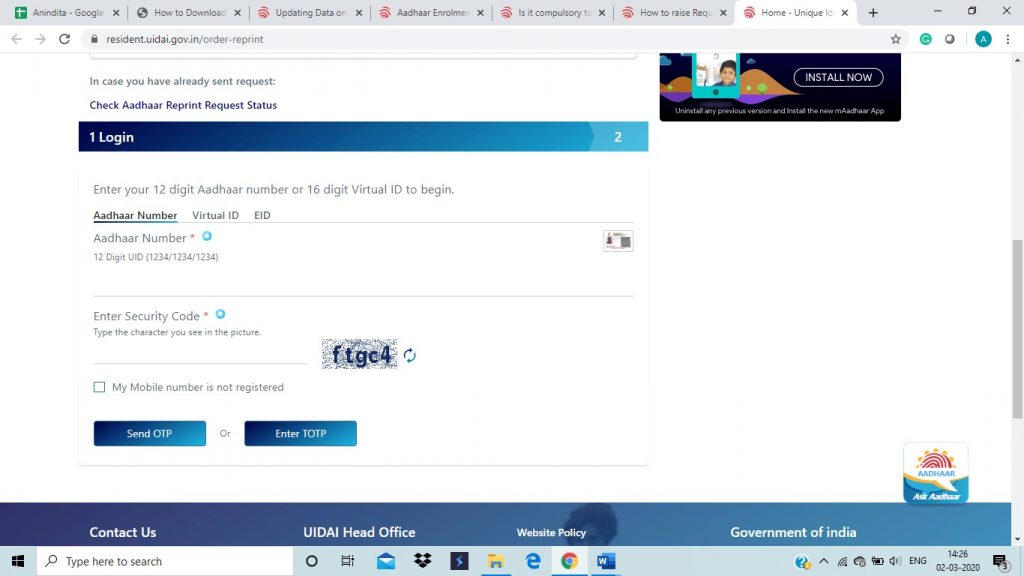 Once you click on the reprint option, enter your Aadhaar Number or the Unique Identification Number or the UID or the 16-digit virtual identification number as shown here
Once you are done with that, fill in the security code often given as a Captcha code.
Tick on the box that states, "My mobile number is not registered"
Enter your alternative number or your non-registered mobile number
Select the option that reads, "Send OTP"
Check on the checkbox that reads "Terms and conditions"
Click on the submit button and complete the OTP or TOTP authentication.
You will be able to see a screen that says, "Preview Aadhaar letter" for verification on your end before you request a reprint
Once you agree to it, tap on the option that says, "Make payment" which will take you to the payment gateway and you can pay as per your choice of mode of payment.
As your payment goes through successfully, you would get a receipt with a digital signature with which you can download the PDF formal.