Pollution is a major problem in India. The country ranks third on the list of the most polluted nations on the planet. To solve this problem, the government made it mandatory for all vehicles using the National Highway to make toll payments through FASTag. It is an electronic system that allows you to make toll payments digitally. Here's a quick guide to it.
What is FASTag?
FASTag is a digital sticker affixed on a vehicle's windscreen and linked to a prepaid card, a savings account, or a digital wallet. It uses radio-frequency Identification (RFID) technology to deduct the toll charge online. This ensures that the vehicle doesn't stop at the toll plaza for manual payment of the applicable toll charge, thus ensuring minimum traffic and loss of fuel.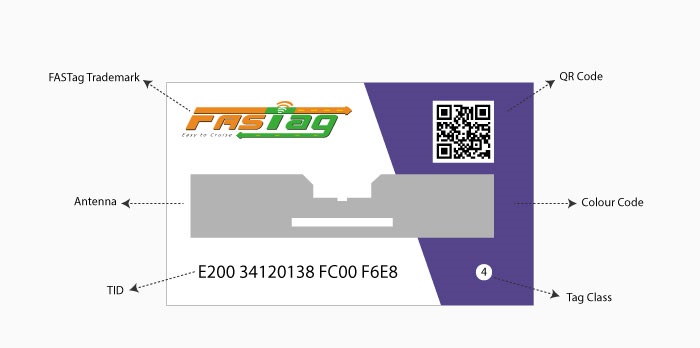 Currently, 720+ toll plazas are connected with FASTag across the country for digital collection of toll charges. The number is increasing quickly and soon there will come a time when every highway in the country has this feature.
How to apply for FASTag Online?
While FASTags can be collected offline as well, it is much easier to get them online. Follow these steps to get a FASTag online:
Visit the official website of any of the leading banks, such as SBI, Kotak Mahindra Bank, Axis Bank, ICICI Bank, HDFC Bank, and so on. A list of other banks and NBFCs have also been authorised to sell FASTags, so decide through which financial authority you want to buy the sticker.
There should be a link that reads 'Get FASTag'/'Apply for FASTag' on the bank or NBFC's homepage. Click that link.
Now, enter your mobile number. An OTP will then be sent on that number. Enter the OTP and hit submit.
Next up, you'll need to enter your personal details, such as your name, email address, home address and so on. Vehicle details like the type of vehicle, its registration number etc, will also need to be entered. After that, you need to upload documents like a scanned copy of the vehicle's RC (registration certificate).
Double-check all the details you've entered in the application form before the final submission.
Once you've submitted the form, you will be redirected to an online payment gateway for fee submission.
Just to be sure, get a copy of the FASTag and payment receipt and keep it with you. You can use it in case of a future dispute.
You can, alternatively, buy FASTags from the 'My FASTag' app, which is available for both Android and iOS users.
How to apply for FASTag Offline?
Any of the methods listed below can be used to buy FASTag offline:
1) Go to your bank's point of sale (POS) and submit the KYC documents to get your FASTag. Call your bank's customer service centre to find out where your bank's nearest POS is located.
2) By submitting KYC documents at National Highway toll plazas, you can get a FASTag while travelling.
Benefits:
FASTags prove beneficial in a number of ways. Some of the top ones are:
Saves fuel
Reduces pollution
Reduces traffic
Decreases commute time
Removes dependence on cash
Online recharge
Documents Required:
To obtain a FASTag and create an account, anyone can go to any of the POS (Point of Sale) locations at certain toll plazas or issuer agencies. To apply for FASTag, you'll need the following documents along with the application of FASTag:
Aadhaar Card
Registration Certificate (RC) of the vehicle
Passport size photograph of the vehicle owner
KYC documents as per the category of the vehicle owner
How to activate your FASTag?
To begin, go to the Google Play Store or the Apple Store and download the "My FASTag" mobile app.
Open the mobile app and link your bank account, which will be used to deduct your toll charges.
You have the option of using a prepaid wallet, in which you can load money and have your toll charges deducted from it.
Your FASTag account is now active and ready to use.
How to recharge your FASTag Online?
Any of the methods listed below can be used to recharge your FASTag:
You don't need to recharge the "My FASTag" mobile app if you've already connected it to a bank account. When you pass through a toll plaza, the required fees are deducted from our bank account. All you have to do now is to make sure you have enough money in your bank account.
You can recharge with a credit card, debit card, UPI, and other methods by logging into your bank account and visiting the Fastag section. You can have a maximum of Rs 20,000 in your prepaid wallet if you have limited KYC or your FASTag. If you have completed the full KYC process, you will have up to Rs 1 lakh in your prepaid wallet.
Fees & Charges:
The fees associated with FASTag usually include issuance fees, a one-time Security Deposit that is refundable upon wallet closure, and the fees associated with reloading your FASTag wallet. If your tag is damaged or lost, you will be charged a re-issuance fee on your second tag.
| | |
| --- | --- |
| Particulars | Amount |
| Tag Issuance Fees (one time) | ₹100 (including GST) |
| Tag Reissuance Fees | ₹100 (including GST) |
| | | | | | |
| --- | --- | --- | --- | --- | --- |
| Sr. No. | Vehicle Class No. | Particulars | Tag Colour | Security Amount (in Rs.) | Threshold Amount (in Rs.) |
| 1 | 4 | Car / Jeep / Van/ Tata Ace and similar mini light commercial vehicle | Violet | 200 | 100 |
| 2 | 5 | Light Commercial Vehicle | Orange | 300 | 140 |
| 3 | 6 | Three Axle Commercial Vehicles | Yellow | 400 | 300 |
| 4 | 7 | Bus/Truck | Green | 400 | 300 |
| 5 | 12 | 4 to 6 axle | Pink | 500 | 300 |
| 6 | 15 | 7 or More Axle | Blue | 500 | 300 |
| 7 | 16 | Heavy Construction Machinery (HCM)/Earth Moving Equipment (EME) | Black | 500 | 300 |
Note:
The threshold amount is the minimum balance that can be recharged when the tag is activated.
The threshold amount varies from bank to bank. The charges mentioned above are subject to change.
The deposit will be refunded to KYC Customers only when the FASTag account is closed.
Helpline Numbers of Bank POS that issue FASTag:
Frequently Asked Questions (FAQs):
Is it possible to have two FASTags for a single vehicle?
For a single car, a vehicle owner can only buy one FASTag. If a person owns more than one car, they must obtain separate FASTags for each vehicle.
What is the validity of FASTag?
FASTag is valid forever. The very same FASTag can be used as long as the tag is read by the reader and not tampered with. If the reading quality degrades due to wear and tear, please contact your Issuing Bank for a new tag.
Is it OK if I don't have FASTag?
No, it's not true. If you don't have FASTag installed on your windscreen, you'll be charged a hefty fine equal to the toll amount.
Would FASTag only work within my city's boundary lines?
FASTag will be used at toll booths all over India.
What happens if I don't keep enough money in my FASTag account?
The FASTag is blacklisted at the toll plaza if the customer does not keep an appropriate balance.
How will I know if & how much toll has been deducted?
As soon as the toll transaction is completed, the customer will receive an SMS with the necessary information to his registered mobile number. After registering with the Issuer Agency, customers can also get a periodic statement of account on the Issuer Agency's website.
Is there a special lane at the toll plaza that I must use for FASTag?
A car with a FASTag can use any lane at toll plazas by paying in cash. A FASTag, on the other hand, will only work in the designated FASTag lanes. A car entering the FASTag lane without a valid FASTag will be charged twice the applicable toll amount in cash.
What should I do if I lose or misplace my FASTag?
If the FASTag was lost or stolen with the car, you must file a FIR with the local police. Notify the bank's customer service centre about the incident. To prevent the tag from being misused, the bank would block it.
How do I surrender or cancel my FASTag?
You must hand over the tag to the bank after submitting a written request for surrender or cancellation of the tag. The heir of the tag holder will claim the security deposit if the tag holder dies.
Is there any FASTag concession if I live near the toll plaza?
A special discount is available if you live within 10 kilometres of the toll plaza. Your bank will need proof of residency as well as other pertinent documents. You will be eligible for a special toll concession once they have verified this.
What can I do if there is a toll plaza dispute?
Contact the issuer agency/bank and report the problem. If your toll tag isn't working, you'll be told to pay the toll in cash. Regarding the dispute, the helpdesk will move the matter to the appropriate facility.
What can be done if a toll collector engages in abuse or harassment?
You can make a complaint with the Project Director in charge of the toll plaza where you live. You can also send an email to [email protected] to report the incident.
What should I do if my FASTag was used to make incorrect deductions?
If you contact customer service about the wrong deductions, the bank will look into your request and, if necessary, reverse the deduction. To address double deductions for single use, the bank will submit a query to the National Payment Corporation of India (NPCI).
How do I get a replacement tag for a defective one?
You can ask for a new tag from the bank, and the balance will be transferred to the new tag account from the old tag account
How can I get a monthly pass?
A monthly pass is valid for one toll plaza only. It can't be used at multiple toll booths. You can get a monthly pass by going to the issuing bank's POS and requesting one. The monthly pass will be activated for the affixed tag, and can also be used at a specific toll plaza, as you are a tag holder.