A domicile certificate often referred to as a residence certificate is a document that certifies an individual's residency in a particular area. It is issued by the state governments and Union Territories (UT). You can use it for availing various government services, like jobs, scholarship schemes and admissions.
Anyone can get a domicile certificate if they meet the eligibility criteria, while a woman married to a person who is a permanent resident of a particular state automatically becomes eligible to submit an application for a domicile certificate for the same state.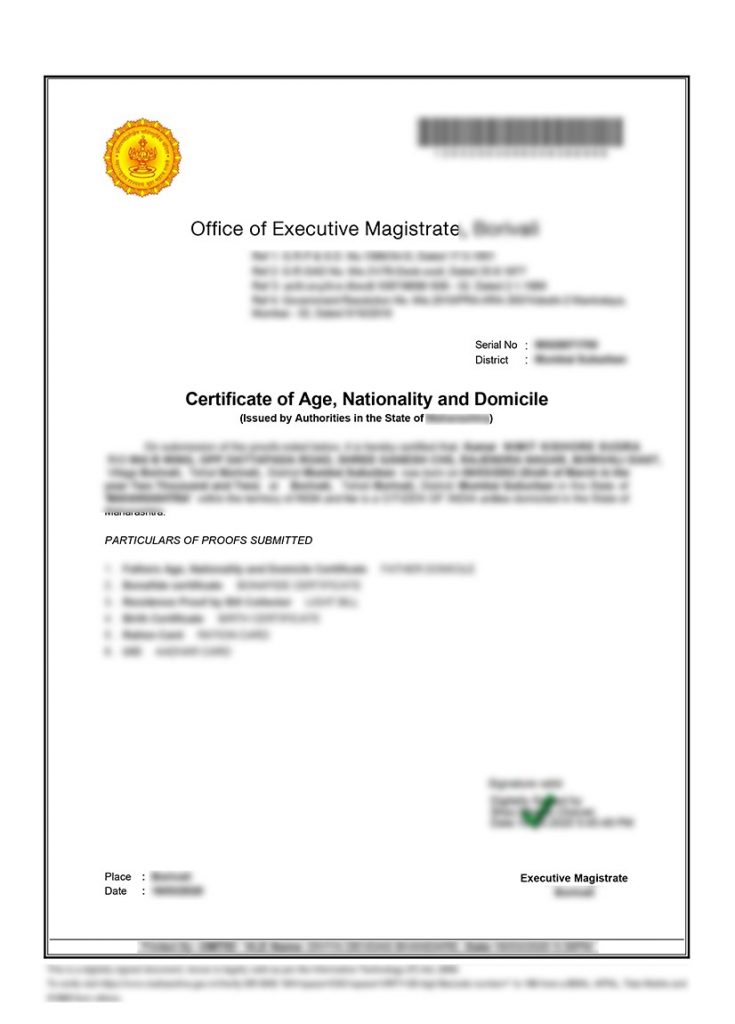 How to apply for Domicile Certificate?
You can submit a domicile/resident certificate application both online and offline. The process has become easier, as most states have turned to an online application process. Hence, each state has its own online web portal from where you can submit your applications. Yet, in a few states, offline apps are still favoured by designated authorities.
Process for a Domicile Certificate Online:
Since every state and UT issues its own domicile certificate, you have to visit the particular state or UT's portal and fill the application form. To apply for a domicile certificate online, you need to be a permanent residence of that area. That's the most important eligibility criteria. Once you fulfil those criteria, all you have to do is fill the application form provided on the portal.
Here's the list of online portals of various states and UTs where you can apply for a Domicile Certificate:
Process for a Domicile Certificate Offline:
Individuals who do not wish to apply through an online portal can choose the offline mode. All they have to do is file an application at either the Tehsildar Office, SDM Office, Mamlatdar Office, Registrar/ Sub-Registrar Office, Revenue Office, District Magistrate Office, Collector/ Deputy Collector Office, or the Citizen Service Corners (CSC).
Documents Required for Domicile Certificate:
To support your application for a domicile certificate, you need to provide documents for address, identity and age. Every state administration may have its own list of documents that you must submit. But, the following are the most frequently requested documents to get a domicile certificate:
Proof of Identity(POI)
Proof of Address(POA)
Proof of Date of Birth(DOB)
2 Passport-size Photo
An affidavit from Tehsil or Court
Self-Declaration Form
Properly filled-in Application Form
Documents Required for Proof of Identity (POI):
Other recognized ID issued by the government
Documents Required for Proof of Address (POA):
House Registration Document
Lease Agreement
Telephone/Electricity/Water Bill
Self Declaration attested by Gazette Officer (Your Address, declared by a Gazetted Officer)
Flat Allotment/Possession Letter
LIC Policy
Bank/Credit Card Statement
Other recognized document issued by the government
Documents Required to Prove Date of Birth (DOB):
School Leaving Certificate
Other recognized ID issued by the government
Frequently Asked Questions (FAQs):
1. What are the criteria for getting a Domicile Certificate?
Ans: To get a domicile certificate anywhere in India, a person must be resident in that state for at least three years before the application date. Furthermore, if the applicant is under the age of 18, the applicant's father must have a valid domicile certificate, or the application will be rejected.
2. Is it possible to use the Aadhar card as proof of residence?
Ans: No, you cannot use an Aadhaar card as proof of residence. It acts as evidence of identification, not of residency.
3. What is the validity of a domicile certificate?
Ans: Once received, the domicile certificate is valid for life. But if you change address or move to another state it won't be valid anymore. Even so, some state authorities have limited its validity. In such states, the domicile certificate's least validity is six months.
4. What are the advantages of receiving a domicile certificate?
Ans: A domicile certificate may provide the holder with a variety of benefits. These benefits include education, a job as well as government scholarships under state quotas. It also applies to certain work positions where local residents are favoured.
5. What is the application fee for a domicile certificate?
Ans: The application fee for getting a domicile certificate varies from state to state. Although some states do not charge applicants any fees, others might charge anywhere between ₹2 to ₹60.