Managing an Employees' Provided Fund Organisation (EPFO) account without a Universal Account Number (UAN)wasn't always easy. First off, the process was initially offline, which meant members had to deal with a lot of paperwork even if they wanted to just check their balance.
Things got even more complicated when they switched jobs, as they were given a new PF account number every time they joined a new employer. This made tracking balance and controlling other aspects of the EPF account really difficult and complicated, which hindered the appeal of EPF as an investment scheme.
The Employees' Provident Fund Organisation (EPFO) recognized this problem and introduced a facility called the Universal Account Number (UAN) in 2014 to deal with it.
What is the UAN?
The UAN is essentially a 12-digit number that works pretty much like your bank account number, with the exception that it is used to access your PF account and not your bank account. Once you start your professional journey, you're assigned a UAN and it stays the same till the end of your employment years. Employers also have a UAN that is unique to them.
It is issued by the Ministry of Labour and Employment, and is generated and assigned by the EPFO. Your UAN stays the same even if you change your job.
What are the benefits of UAN?
PF account holders would already be aware about the importance of UAN. Some of its key benefits include:
Makes it easy to manage your PF account
Using the UAN member portal, both you and your employer can easily check the past records of the PF account. All the relevant details are properly summarized, which wasn't the case when UAN wasn't there.
Add or withdraw funds at your convenience
With your unique UAN, you can add or withdraw funds from your PF account as and when you like. This removes the involvement of your employer, and allows you total control over PF account. Since the process is online, you can use the UAN and manage the funds in the account at any time of the day, or night.
Track everything from your smartphone
Thanks to the UAN portal, you can track everything related to your PF account using your phone. You'll receive an SMS whenever funds are added or withdrawn from the account.
Comfortable for employers as well
The UAN helps all its members, and that includes employers as well. They can approve employees' PF withdrawal requests, submit their contribution, and transfer the employees' old PF into the new PF account.
How is the UAN allotted?
The allotment process of UAN is fairly simple, and progresses in stages.
The first stage is where a member is given his/her UAN. If you want to generate it yourself, follow these steps: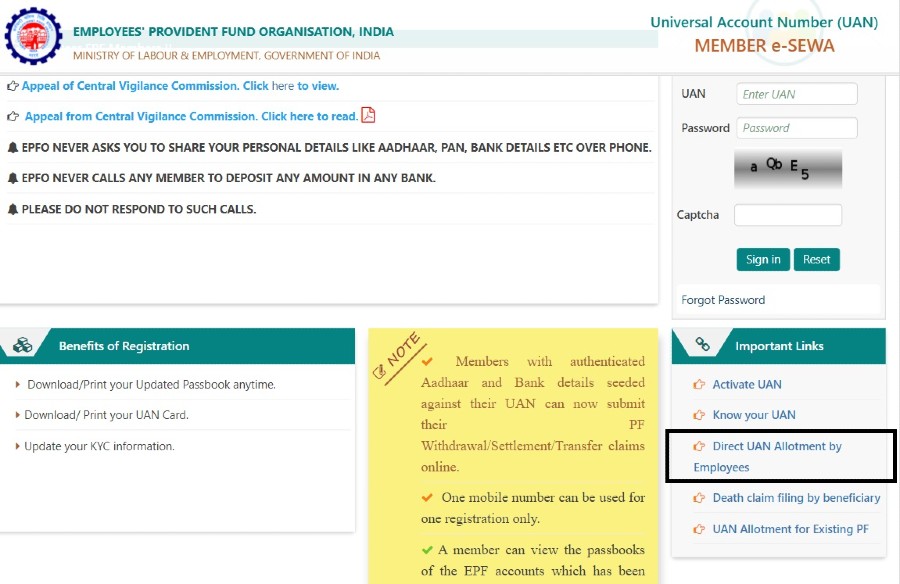 On the right-hand side of the page, you'll notice a link that reads 'Direct UAN Allotment by Employees'.
Enter your Aadhaar Number, and then click the 'Generate OTP' button. An OTP will now be sent to your registered mobile number.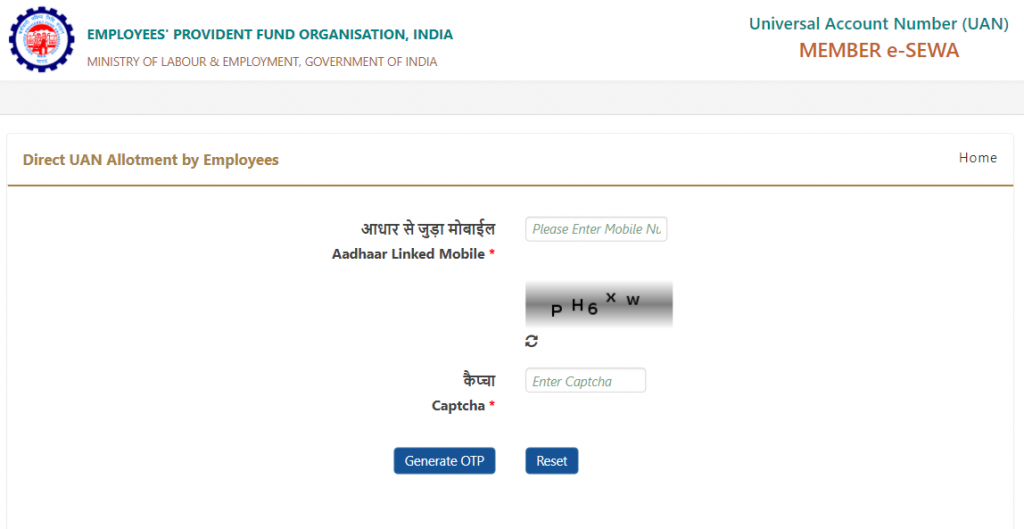 Enter the OTP, accept the Disclaimer, and hit Submit.
Your personal details, as per your Aadhar Card, will now be displayed. Verify all the details, and enter the mandatory data, like your Email id, Marital Status, and Qualification.
Fill in the captcha, select the box in the disclaimer section, and then click on the Register button.
The UAN will now be allotted to you and will be displayed on the screen.
Note down this UAN, and go ahead and activate it. For this, you'll need to visit the EPF Member Portal, where you'll see an option that reads "Activate UAN". Details like your UAN registered mobile number, Aadhaar number, PAN number, name, Date of Birth (DOB), and E-mail id will be needed. Once you've done that, click on "Get Authorization PIN", which will be sent to your number. After you've entered, you can now create your username and password.
Now that you've activated your UAN, note it down somewhere as you'll need to share this UAN with your new employer for transferring your PF account.
The second stage is where you download your UAN, and give it to your employer. This UAN will now be given to HR or whoever's responsible for managing employees' PF account. Check the web portal to get info about the UAN allotment.
What services can be availed of using the UAN member portal?
The UAN allows access to a host of services for both employees and employers. Some of these include:
The ability to download passbook and UAN card, which helps you keep track of credit and debit in your PF account.
You can view the different member ids and the PF linking status.
Employees can also view status of transferred claim, file claim and check system generated transfer claims.
The portal also allows you to edit your email id and mobile number.
You can even update the KYC documents and also upload them on the website.
View and seek help from the helpdesk contact numbers.
A word on help desk
The EPFO has been working relentlessly to ensure members do not have problems when trying to access their PF account. Along with the UAN, which we discussed at length, the organization also offers the help desk service on its website, which helps solve various queries of its members.
'Help' and 'Claim' are the two sub categories. 'Help', as the name suggests, basically answers the different questions employees and employers have, with respect to their PF account. This also includes information about the EPFO's office locations, UAN, Services and Grievances. The second section called 'Claim', meanwhile, gives information about the various claim forms, such as Composite Claim form (Aadhar), that users can avail.
The help desk service is available 24×7, and is a useful tool that can help clear your doubts about everything related to EPF.
Final thoughts
If you're investing in EPF, you simply can't do without the UAN. It is an important service that can help keep a track of everything in your EPF account. It offers plenty of services, and all of them are geared towards more convenience for members.