UMANG App(Unified Mobile Application for New-age Governance), is an initiative by the Ministry of Electronics and Information Technology (MeitY) and National e-Governance Division (NeGD) to provide a one-stop gateway to all government schemes and services through different channels like mobile app, chatbot, voice bot and website.
This is as per the new Digital India efforts taken by the Government of India. It is a seamless integration can access more than 21,000 services from 320 departments of central and state governments using UMANG app.
How To Get Started With UMANG?
It's very simple. Just follow these steps:
Download:
Use the QR Code on the official website to scan and install the app
Dial 97183-97183 and hang up. You will get a link on your phone to install the app.
Go to the UMANG website here and type your phone number. You will get a link on your phone to install the app.
You can also search for "UMANG App" on Google Play Store (for Android users) or iTunes App Store (for Apple users) and download the app.
Registration:
Step2. You will be taken to the page where you need to verify your mobile number. Enter your number and get an OTP to complete the registration process.
Step3. After you have entered the OTP, you will be prompted to create an MPIN, and once you have done that, the registration is done, and you can see the UMANG App Home Page. This page displays a list of recently accessed services available on the UMANG App.
Login:
You can log in on UMANG using your registered mobile number and M-PIN.
You can also log in using a registered mobile number and OTP.
If you have linked your social media accounts with the app, such as Google, Facebook, etc., you can log in using these social media accounts as well.
Services:
You can browse and access various services on UMANG by category, department, keyword, or location.
There are over 150 different services present on the app that are provided by the state as well as the central government.
You can search for any specific kind of government services you need using the in-app filter.
You can also access the app in your regional language as it has over 12 languages, such as Hindi, Gujarati, Bengali, Marathi, Tamil, Telugu, Kannada, Assamese, Odia, Punjabi, Malayalam and Urdu, other than English.
You can pay for services such as your electricity, water, gas, broadband and landline bills using the UMANG app. You can also view your bill history and download receipts.
List Of a Few Services On The UMANG App:
DigiLocker – DigiLocker is a cloud-based platform that can be used to store, share, issue documents or verify them.
Aadhar Card – You can digitally download or view your Aadhar card using your DigiLocker account, update your address, check your status, lock/unlock your biometrics and more using UMANG.
EPFO – UMANG app allows you to access your EPF(Employee Provident Fund) Account balance, etc., using your EPF account UAN and OTP from your registered mobile number. You can view your EPF passbook, raise claims, track claim status, update KYC and more using UMANG.
Paying Income Tax – Using the UMANG app, you can use Challan 280 to pay different kinds of taxes, such as Advance Tax, Self-Assessment Tax, etc. You can also check the status of your tax payment challan with the "Track Challan Status" feature.
Ayushman Bharat – The National Health Protection Scheme is a Pilot Project that aims to offer a network of healthcare services for primary, secondary and tertiary levels to the public.
LPG services – You can use the UMANG App for various online services related to gas cylinders, such as booking, refilling, getting subsidies, hiring mechanics, giving up connections, and more. These services are available for HP Gas, Bharat Gas and Indane Gas customers.
Jeevan Praman – Jeevan Pramaan is a service that lets pensioners create a Life Certificate using their mobile phone and an external biometric device. This service is only for pensioners who get their pension from the Central Government, State Government or any other Government organization. By using Jeevan Pramaan, pensioners do not have to go to the pension disbursing agency or the authority where they worked before to get their life certificate. They can do it from anywhere using their Aadhaar number and biometric authentication.
Pradhan Mantri Awas Yojna – The UMANG app helps you access various services related to PMAY (U), a scheme that aims to provide a permanent house for eligible urban poor and slum dwellers. You can use the app to apply, track your status, calculate your subsidy, and more.
PAN Service – You can apply for a new PAN, make corrections/changes to your PAN card, check PAN status, download e-PAN and more using UMANG.
Passport Seva – You can use the UMANG app to access various Passport related services like locating a passport centre, fee payment calculation, appointment availability checking, passport application status tracking, etc.
National Scholarship Portal – The portal aims to provide timely scholarships to students. It is a single mobile app for different Scholarship schemes from Central and State Governments. Students can use the portal to apply for new scholarships, renew existing ones, check eligibility, track application status, etc.
AICTE (All India Council for Technical Education) – As per its charter, AICTE is a legal entity that oversees and coordinates the growth of technical and management education systems in India. It grants accreditation to graduate and PG programs in specific categories at Indian institutions. Users can find out which institutes are approved, apply for PG and PMSSS scholarships and follow their application status.
And these are just some of the examples. There are many more categories and services that you can explore on UMANG such as agriculture, transport, finance, housing, social security, etc.
How To Use The Services On The UMANG App:
The UMANG app is a unified platform that lets you access various government services on your mobile phone. You can download the app by scanning the QR Code on the website, giving a missed call or sending an SMS from your registered mobile number.
To use the UMANG app, you need to register or log in with any phone number in India and OTP/password. However, different services may require different credentials. For example:
To use the EPF service, you need to enter UAN and OTP sent to your registered mobile number.
To use the NPS service, you need to enter PRAN and password/OTP to register a mobile number.
To use the Income Tax Payment service, you need to enter your PAN and other key details such as date of birth and so on.
Key Benefits Of the Umang App For Citizens:
Single-Point Access Everywhere: Access all government services through a single platform via SMS, email, app, and web, making it convenient for citizens.
Simplified App Experience: Save space and hassle by installing just one app instead of multiple apps for different departments.
Seamless Services: No need to update the app repeatedly; new services are automatically available on the platform for citizens' convenience.
Time and Money Saved: Skip the queues and office visits! Access government services anytime, anywhere, using your mobile or computer.
Consistent and Secure: Enjoy a uniform and secure experience across all government services, including payments.
Apart from this, you can enjoy the benefits of UMANG such as feedback & rating, notifications, customer support, live chat, chatbot, voicebot and transactions.
How To Check Your EPF Balance Using The UMANG App:
To access the EPF module, search or tap on it on the homepage of the app.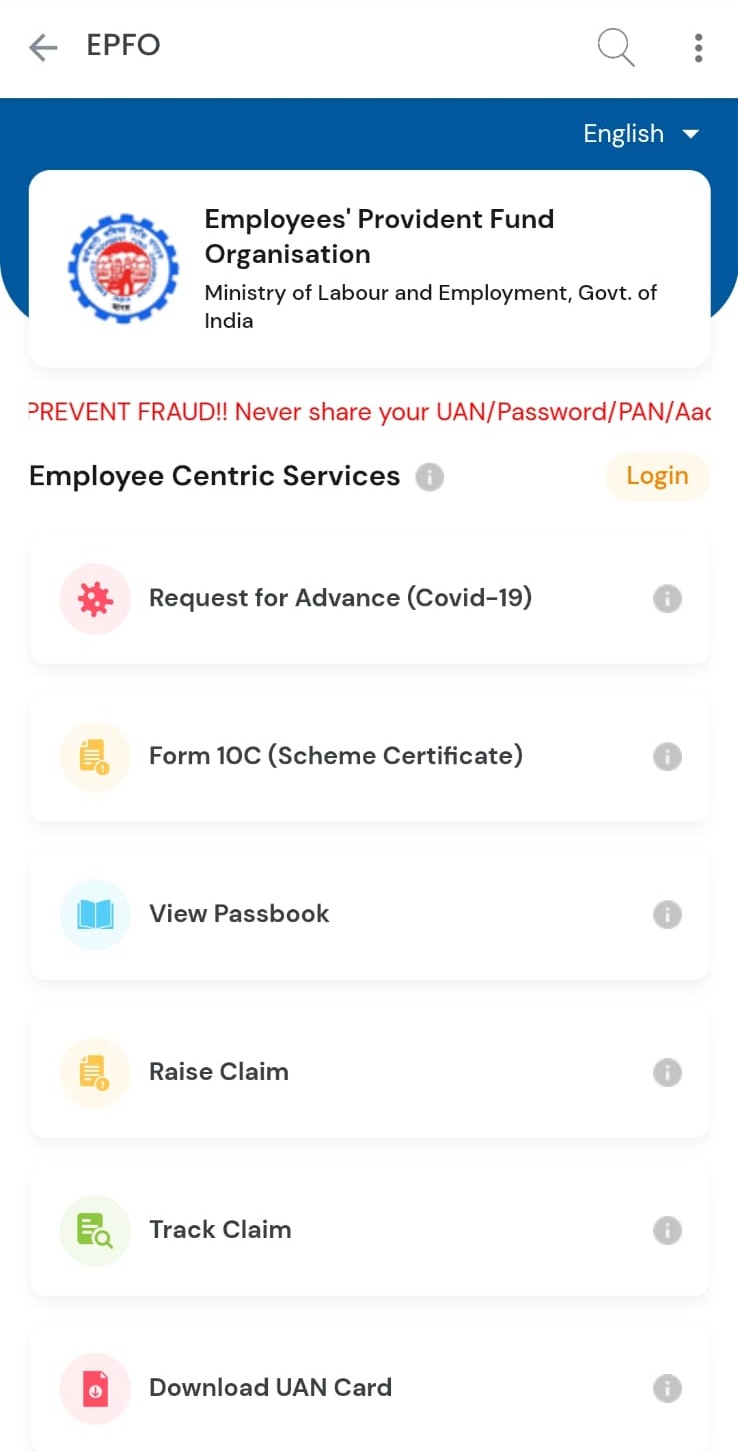 This will take you to the UMANG EPFO login page
Log in by entering your UAN (Universal Account Number) and OTP sent to your registered mobile number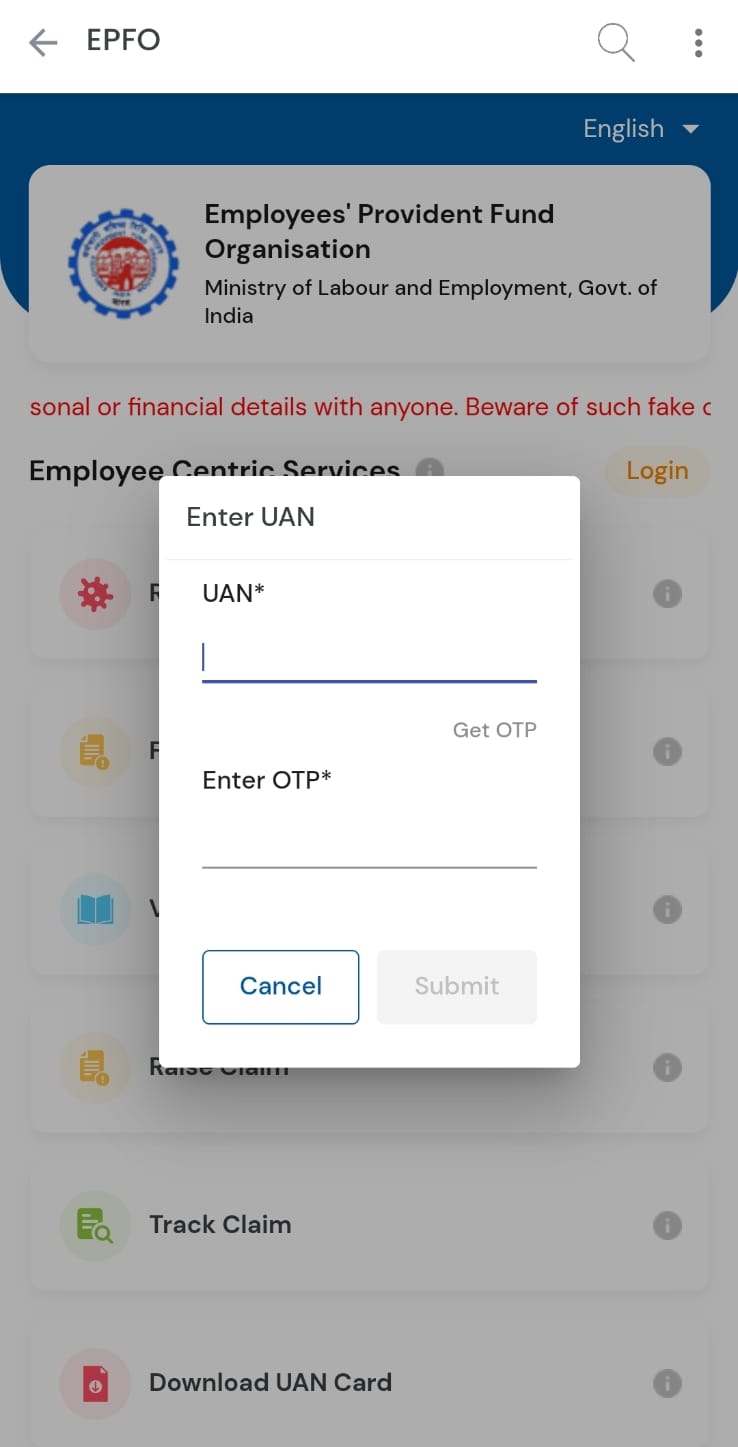 Choose one of the options from Employee Centric Services, General Services, Employer Centric Services, Pensioner Services and eKYC Services depending on your need
To check your EPF Passbook balance, tap on the "View Passbook" link on the UMANG EPF page as shown below.
You will then see the Passbook Account Detail page on the app. This page shows the UAN you are logged in with and the PPF account details associated with the UAN provided
Tap on the specific PPF account number to see the detailed EPF passbook as shown below:
You can tap on the Deposits or Withdrawals options to see specific transactions made on your EPF Account.
How To Withdraw Your EPF Using The UMANG App:
The UMANG app allows you to access the EPF portal and apply for EPF withdrawal easily. After logging in to the app, you need to follow these steps:
– Search for EPFO in the search menu.
– Choose Employee Centric and then Raise Claim.
– Enter your UAN number and get an OTP on your registered phone number.
– Enter the OTP and choose the type of withdrawal you want.
– Submit your request through Umang.
You will get a confirmation message and a reference number for your claim.
Conclusion:
To wrap it up, now you're all set to use UMANG and access a bunch of government services right from your fingertips. I hope you found this blog post helpful and informative. If you have any questions or suggestions, please leave a comment below. And don't forget to share this post with your friends and family who can also benefit from UMANG.
Frequently Asked Questions (FAQs):
1. What is the main objective of UMANG App?
Ans: Umang App aims to speed up digital payments and streamline mobile governance for faster and easier transactions.
2. What if I lose my phone which has UMANG App?
Ans: Don't worry! Your account is password-protected, so it's inaccessible. But for added security, call the toll-free number 1800-11-5246.
3. Can I delete my UMANG account?
Ans: To delete your account, go to 'Settings', then 'Account Settings', and click on 'Delete My Umang Account'.
4. In which languages is the UMANG app available?
Ans: Apart from English, Umang is currently available in 12 Indian languages for a diverse user experience.
5. What are the ways to access UMANG?
Mobile app
SMS
Web
IVR (Interactive Voice Response)
6. Are there any fees for using UMANG App?
Ans: No, all government services offered through the UMANG App are completely free of charge.
7. Can I change my phone number on the UMANG App later?
Ans: Absolutely! You can easily update your phone number on the UMANG App without changing your actual phone number. Just complete the registration process with the new number to update it in the UMANG App.