Considering the importance of MSMEs (Micro, Small and Medium Enterprises) to the Indian economy, the Government of India comes with unique policies designed to benefit companies under this category. However, these benefits cannot be availed by simply stating that your company is an MSME. The government requires certain proofs, and one of them is Udyog Aadhaar.
What is Udyog Aadhaar?
Udyog Aadhaar, which is now revised to Udyam, is a 12-digit number unique to every MSME in the country. It is given to a company after it has registered as an MSME with the Ministry of Micro, Small and Medium Enterprises. The number is mentioned on the Udyam registration certificate, which is used for availing various benefits that the Government provides for MSMEs.
How to proceed with Udyog Aadhaar registration?
Udyog Aadhaar registration, which has now been migrated to Udyam Registration, is mandatory for every company that wants to avail of the benefits that the government offers to MSMEs.
Traditionally, companies that wanted the Udyog Aadhaar had to fill out the Udyog Aadhaar Memorandum (UAM). It was a registration form that certified a SMEs existence. If the application form was approved, an acknowledgement form containing the unique UAN (Udyog Aadhaar Number) was sent to the registered email of the applicant. However, this process is obsolete now.
Companies that wish to apply for Udyog Aadhaar must complete the registration process. Here are the steps involved:
The owner of the SME must fill a one-page form either online or offline. For online registration, he/she must visit the official website.
In case someone wants to register for more than one industry, then they need to opt for individual registration.
The owner has to fill out the form and self-certify the SMEs existence, details of business activity, ownership and employment details, bank account, and other information.
Self-attested certificates must be attached along with the form.
There's no registration charge. Applying for Udyog Aadhaar is completely free.
Once the form has been filled with all the relevant details, the Udyog Aadhaar registration number will be generated and then mailed to the registered email address.
Documents Required:
Name of the business owner
Social Category documents stating general, scheduled tribe (ST), scheduled caste (SC) & other backward classes (OBC).
Business name
Documents to support the type of business
Postal address of the business
Bank details of business
Key Activity
Previous Registration Details (if any)
Number of persons employed
National Industrial Classification (NIC) Code
Date of Commencement
District Industry Center (DIC), if needed.
Forms:
Udyog Aadhaar Memorandum: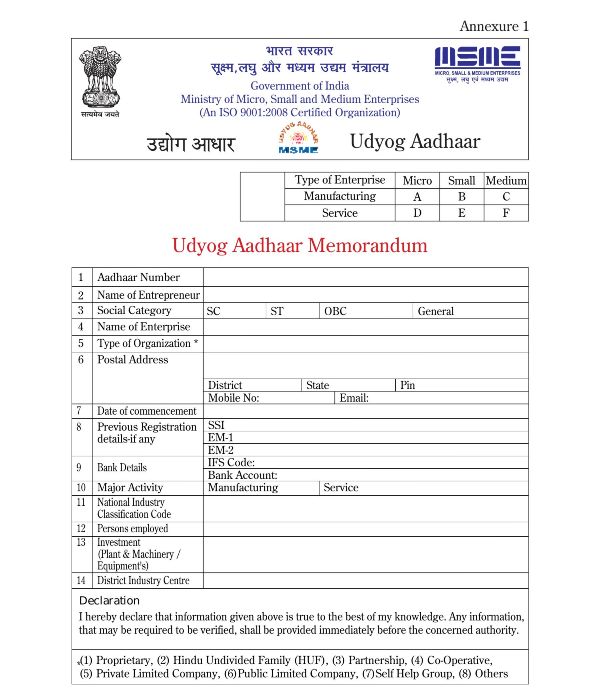 Udyog Aadhaar Acknowledgement: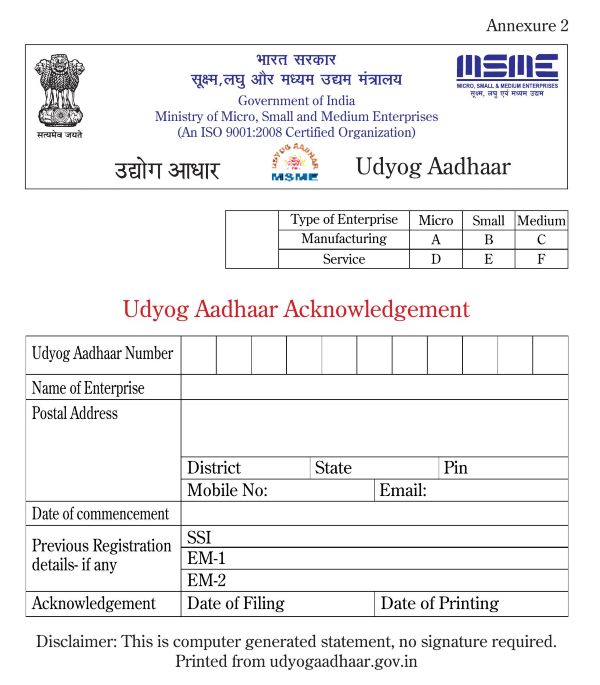 Frequently Asked Questions (FAQs):
Let's now go through some of the most common questions people have regarding the Udyog Aadhaar registration process.
Q: Which companies are considered as MSMEs?
Ans: Any company whose investment in plant and machinery or equipment does not exceed ₹1 crore, and turnover does not exceed ₹5 crores, is considered a micro-enterprise. Any company whose investment in plant and machinery or equipment does not exceed ₹10 crores, and turnover does not exceed ₹50 crores, is considered a small enterprise. Any company whose investment in plant and machinery or equipment does not exceed ₹50 crores, and turnover does not exceed ₹250 crores, is considered a medium enterprise.
Q: What are the benefits of Udyog Aadhaar Registration?
Ans: An MSME having a Udyog Aadhaar registration certificate can get the benefits of all the government schemes for MSMEs. They are also eligible for government subsidies and can apply for government micro business loans and other such related beneficial schemes as well.
Q: Are Udyog Aadhaar and Udyam Registration same?
Ans: No. Udyog Aadhaar was introduced in 2015 by the Government of India for the registration of MSMEs. Subsequently, the Government revised the MSME definition and introduced the Udyam Registration portal in 2020 for registering new MSMEs. The Government also stated that all companies having Udyog Aadhaar Registration need to re-register under the Udyam Registration portal after 1st July 2020 for it to be valid.